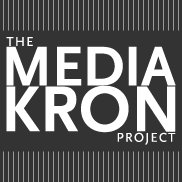 Managing Your Site: Creating a Title and Adding a Color Scheme
Creating a Title
The project title appears at the top of your MediaKron project.
To edit your project title, first be sure that you are logged into your MediaKron site, and then select Manage Project.
From here, select Project Title from the left sidebar or the top tab.
In the Project Title box, enter the new title for your MediaKron site. Select Submit to save.
Adding a Color Scheme
The color of the navigation bar and the links within your site can also be customized. From the Manage Project page, select Colors on the left sidebar or the top tab.
There are three ways to customize the colors of your site. If you would like to use one of the built-in color schemes, use the dropdown menu to find and select your desired theme.
If you know the HTML codes for the colors you would like to use on your site, use the dropdown menu to select Custom and then manually enter the color codes in the Link Color and Navigation Bar fields. Click the padlock icon to save.
If you do not know the HTML codes but would like to use custom colors, select either Link Color or Navigation Bar and then select a color in the color ring. From here, you may also select a saturation profile in the box inside the circle.
As you select different combinations, the preview space below reflects these changes in real time.
When you are satisfied with your custom color selection, click the padlock icon.
Then, at the bottom of the page, click Save.
The grant was received from the Davis Educational Foundation established by Stanton and Elisabeth Davis after Mr. Davis's retirement as chairman of Shaw's Supermarkets, Inc.
tmkp@bc.edu 617-552-6576
© 2012 The Trustees of Boston College.