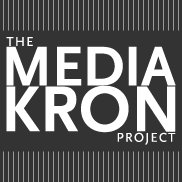 Content on Your Site: Adding Text
Adding text to your MediaKron site can complement audio and pictures. You can compose text in MediaKron or upload a previously saved PDF to your site.
If you would like assistance creating or saving a PDF on your computer, please contact MediaKron support at
tmpksupport@bc.edu.
To begin adding text or a PDF to your MediaKron site,
first be sure that you are logged in. Then, on the
horizontal bar next to the project title, click on Add Content.
This will bring you to the Content area in MediaKron. To add text to your site, click on the third option, Text.
In the editing space that opens, enter the pertinent information about your text file. Please note: any fields with red asterisks are required. Enter the Title of your text file, and select the Topic under which you would like it to be organized. Add any relevant tags in the Tags box, using commas to separate multiple tags. If you are uploading a PDF document from your hard drive, select Choose File next to Document. If you would like to add an thumbnail image to your content item, select Choose File next to Thumbnail. Select an image from your hard drive and then select Open. This file must be less than 10 MB and must be a .png, .gif, .jpg, or .jpeg file.
In the large space provided, write the text for your item. Using the editing toolbar, you can style this text as you wish, such as making the words bold, italic, or underlined. You can also use the copy and paste functions, along with other options, to create this content.
On the top horizontal bar, you will see a number of tabs. In each tab, from left to right, you will be given options to add your text file to the timeline and maps on your MediaKron site.
On the Start Date tab, you can place your content item on the MediaKron timeline. If you would like this piece of media to show on the timeline, first check the box next to Enable on timeline. Then enter a year, month, and day (if applicable) for your text file. Use a four-digit number for years, and use negative numbers for dates BCE. Use a two-digit number for months, or write the entire name of the month. Use a two-digit number for days.
Please see the Timeline documentation for assistance on how to set up the timeline on your MediaKron site.
Each map associated with your MediaKron site also has its own tab. This function allows you to pin your text file to each map, if desired. If you would like this piece of media to show up on the designated map, check the box next to Place this item on the map. Then, click on the place where you would like your text file to be pinned, keeping in mind that you can zoom in or out on the map. A red pin should appear, verifying that the text file has been added to the map in your desired location. Please note: a content item can be placed on more than one map, if desired.
For instructions on how to create a map in MediaKron, please see the Map documentation.

When you are finished assigning details to your text file, select Save near the top and to the right of the Title box. This will publish your media item on the site.
A confirmation message like the one below will verify that your file has been created and added to your MediaKron site.
You can now view the text file on your MediaKron site under the topic to which it was assigned. If you have pinned your text file to the timeline, to one or more maps, or added tags to it, you can also view your content from those locations. In this example, the test item was added to the Friends topic, tagged as 60s, added to one of the maps, and tagged as the year 1965.
The grant was received from the Davis Educational Foundation established by Stanton and Elisabeth Davis after Mr. Davis's retirement as chairman of Shaw's Supermarkets, Inc.
tmkp@bc.edu 617-552-6576
© 2012 The Trustees of Boston College.