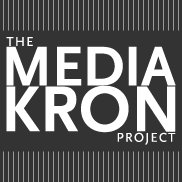 about the mediakron project
MediaKron is an online tool for presenting and exploring multimedia course content. It provides an easy way for instructors to upload and organize a variety of instructional materials and enables students to explore this content from a web browser. Each object entered into the database can have a variety of metadata attached to it, including topics, tags, geographic location, and date. Each type of metadata corresponds to a different interface in MediaKron, enabling instructors to create variety of pathways for organizing content. Topics create sequentially ordered slideshows, tags enable items to be flexibly grouped with several different kinds of related items, locations allow items to show up on a map, and dates put items on a timeline to create a visual representation of chronology. In this way, multiple relationships can be created among items and users have control over viewing content differently as they navigate through the interfaces, filtering content in a variety of ways.
MediaKron was created by Boston College with funding from the Davis Educational Foundation. Boston College is expanding MediaKron's usage across higher education institutions in order to form a learning community to enable the tool to become self-sustainable and serve as a conduit to innovation and digital scholarship for faculty and students.
Boston College selected six external higher education institutions to produce two projects each to participant in the MediaKron Project.
Click here to see our Call for Proposals.
The grant was received from the Davis Educational Foundation established by Stanton and Elisabeth Davis after Mr. Davis's retirement as chairman of Shaw's Supermarkets, Inc.
tmkp@bc.edu 617-552-6576
© 2012 The Trustees of Boston College.