Founding Fathers
edited by ben birnbaum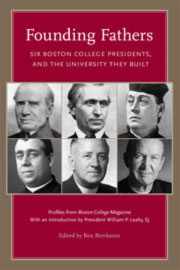 © 2008 Boston College
ISBN:978-0-9816416-1-4
106 pages | $8.95

Available at the
Boston College Bookstore.
From the introduction by William P. Leahy, S.J.
Leadership at its most profound is a form of ministry, a form of service personified by the six "Founding Fathers" profiled in this book. John McElroy was not an academic, but he was a leader who overcame difficult barriers to establishing a college for the children of Irish immigrants; John Bapst was a man of great zeal who suffered persecution and stayed the course; Robert Fulton understood the world of ideas and fostered an academic culture at the young college; Thomas Gasson showed extraordinary vision in moving Boston College to Chestnut Hill; Michael Walsh understood that Boston College could become a great research university; and J. Donald Monan was the prime architect of Boston College's remarkable revival and growth. For their example, and for what they saw and what they built, all of us associated with Boston College today owe them much.
About the Editor
Ben Birnbaum is editor of Boston College Magazine and executive director of the University's Office of Marketing Communications. He is the editor of Take Heart: Catholic Writers on Hope in Our Time (Crossroad, 2007), and an essayist whose work has been anthologized in Best American Essays, Best Spiritual Writing, and Best Catholic Writing.