Modernism: 20th Century and the Tradition
office of international programs
Paris, France (HONORS PROGRAM STUDENTS ONLY)
This four-week course is a Paris-centered version of The Twentieth Century and the Tradition I (HP133), part of the third year curriculum in the Arts and Sciences Honors Program. As the de facto capital of Europe at the end of the 19th century, Paris was well-situated to be a place in which were experienced both the triumphs and the traumas of 20th century. We will explore how artists, writers, scientists, and philosophers in and around Paris (and elsewhere) pursued the challenge of re-evaluating the Western cultural tradition's ideas of knowledge, reason, morality, and progress, within the often shadowy light cast by new types of social and intellectual upheaval and revolution, world war, runaway economic speculation and failure, the rise of political fascism and totalitarianism.
The course will begin by considering the legacies of the society of the Belle Époque and the founding of the Third Republic. As the 20th century commenced, optimism about a cosmopolitan future of material progress and personal freedom increasingly gave way to anxiety about alienation in a disenchanted world. The trauma of the Great War produced widespread disillusionment and demoralization, which the Second World War threatened to make permanent features of modern life. But these processes are ambivalent: once illusions are lost and values revalued, the hard work of creation must begin. The call to "Make it new!" was not only answered in writing, painting and music: life itself came to be seen as an object of creativity and improvisation, an existential artifact shaped by the free choices and commitments of the individual.
Course texts will include novels, poems, essays, films, music, buildings and paintings. Among the things considered will be the poetry and criticism of Baudelaire, Apollinaire and Eliot; the novels of Faulkner and Camus; the philosophy of Sartre, Beauvoir and Heidegger; the films of Renoir and Buñuel; the paintings of the Impressionists, the post-Impressionists, the Fauves, the Cubists, Dada and the Surrealists; the architecture of le Corbusier; and the music of Stravinsky and le jazz hot.
The class will meet formally for discussion and reflection four times a week, and three times a week we will make site visits to museums, monuments and memorials. The writing component of the course will consist of occasional one-page reflections (on readings and site visits) due at class meetings, as well as a single essay of approximately 12-15 pages, due two weeks after the completion of the course.
Professor Chris Constas, Arts & Science Honors Program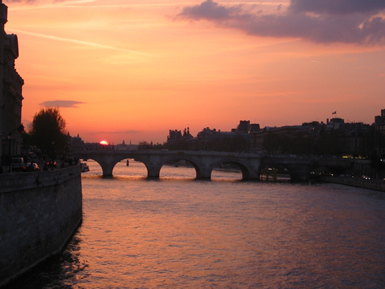 highlights
• 3 credits
• Arrival/Departure: June 1 - June 29

• Honors Program Major elective (Honors Program students only)

• Course #: HP133
Resources
Contact
Prof. Chris Constas, Arts & Science Honors Program