Office of the University Historian
serving boston college & the community
The Office of the University Historian is the place where people come to make inquiries concerning various aspects of BC's institutional history, as well as its historical relationship with the Greater Boston community. To learn more about what we do, please visit our Services page.
Contacting the University Historian
Dr. Thomas H. O'Connor
Professor of History Emeritus
Specialist in American History and the History of Boston
Telephone: (617) 552-4788
Email: oconnort@bc.edu
The Office of the University Historian is located on the first floor of Hopkins House, 116 College Road, on the main Chestnut Hill campus.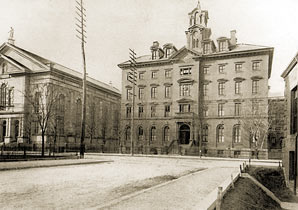 A historic black-and-white photo of the original Boston College Campus in the South End.