Duplex Printing in the CTRC and Libraries
mac os x
On this page:
Note: Two pages, printed double-sided, are charged as one page.
Set up duplex printing using Mac OSX:
From the Apple Menu choose System Preferences.

Click the Print & Fax logo under the Hardware section.
Click Options and Supplies.
Select the Driver tab at the top (see Figure 1).

5. Check off Duplex Unit on the left.

Print with Duplex Printing using Mac OSX:
From the File menu, select Print.
Click the menu that begins with Copies & Pages and select Layout (see Figure 2).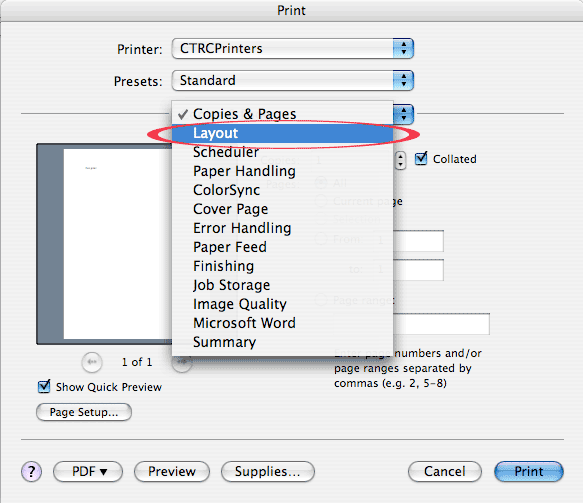 Figure 2


3. For the Two-Sided option, select either Long-edged binding or Short-edged binding.
Note: To save these duplex settings for future use, select Save As from the Presets drop down menu, and save the new settings as 'Duplex' or any other name. You can then easily choose to duplex print anytime by choosing this setting.
4. Click Print.