Agora Portal Overview
getting started with technology at boston college
What is the Agora Portal?
The Agora Portal (http://portal.bc.edu) is a central place where a wide variety of information or services from multiple sources are accessible. The information available in the Agora Portal is based on your role(s) (e.g., faculty, staff, student or applicant) at Boston College. Your role(s) determines your access for reading, searching, updating, and personalizing the information and services in your portal.
For example, a Boston College student can access information from Student Services, Library Services, and Dinning Services and display the information from these three sources in a single location.
The presentation of information in a portal can be customized by an individual. This allows a user to select and organize content within a portal.
What is a portlet?
A portlet is a small window on a portal page that displays specific content. In most cases, multiple portlets appear on a portal page so the end-user can have immediate access to a variety of content and services. A portlet allows a user to customize the content, appearance and position of its content.
The image below is a "Sample" portal page displaying 4 portlets:
Tech Help

Local BC Weather

BC Libraries

Athletics
Note: You can display up to nine portlets on one page.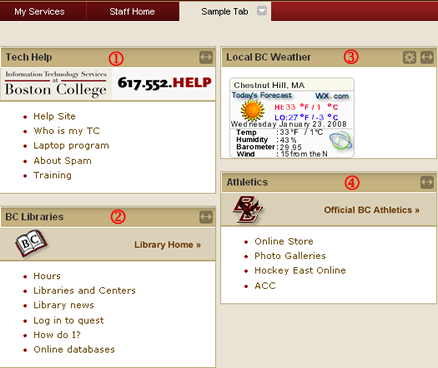 Requirements:
User and Account:
You must be a member of the Boston College Community. You must have a BC username and password.
Web Browsers
The recommended Web browser to view the Agora Portal is Mozilla Firefox 2+.The Supported Web browsers are:
Windows
Internet Explorer 7+
Mozilla Firefox 2+
Macintosh
Sign into Agora Portal
To sign in to Agora Portal:
Go to portal.bc.edu.
Enter your username and password, then click Login (see Figure 1).

Figure 1.
Agora Portal Portlets
My Services Tab
The My Services Tab will give you access to all the commands you can perform within Agora Portal.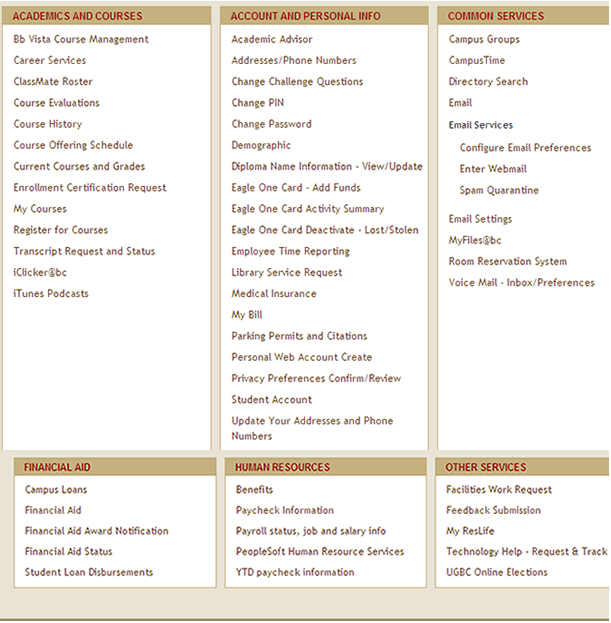 Directory Search
You can perform basic searches of the Boston College Directory directly from your Agora Portal Home Page. To search for a person, complete the following steps:
In the left hand corner, scroll over the search bar, then choose BC Directory (see Figure 2)

Figure 2.
In the search box, type their full name, first name first followed by their surname, you may also search by surname alone.
Click the magnifying glass.
You will be brought to the Directory Search results. Within the results, click the name for further contact information.