Password
security credentials
What is my password?
A temporary password will be assigned to you and you will be required to change it the first time you log into Agora Portal.
How do I create or change my password?
If you know your current password:
There are several options in your Agora Portal menu called Change Password/PIN/Challenge Questions that allow you to change your password, PIN, or Challenge Questions at any time. You need to know your current password, PIN, or Challenge Questions in order to choose a new one (see Figure 1).
Note: For more information about changing your password, PIN or Challenge Questions, please consult Changing Your Password, PIN, and Challenge Questions.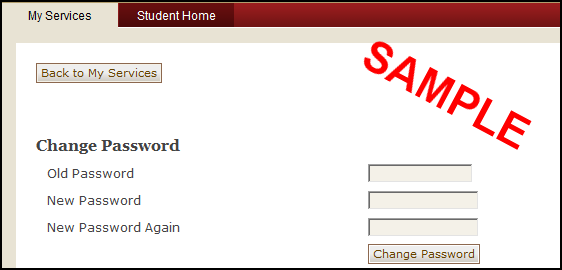 Figure 1.
If you don't know your current password:
If you forgot your password and you set up Challenge Questions in Agora Portal, you can conveniently change your password using Agora Portal (click "Forgot Password?") or by calling 617-552-HELP and correctly answering the Challenge Questions.
If you're a BC applicant who does not remember your password and you did not set up Challenge Questions in Agora Portal, you can have it reset using Agora Portal (click "Forgot Password?"). You will be asked to enter the email address you used for your application.
If you have not completed your Challenge Questions, you must go to the CTRC in O'Neill 250 with a photo ID to have your password or PIN reset.

Note About Saved Password: Some applications on your computer or mobile devices may provide the option of remembering your password. Some programs with features like this include, Outlook, iCal, and Firefox. This option allows you to use these applications without having to enter your password each time. For security reasons, we strongly recommend against using this feature. If you have allowed any of these applications to remember your password, you will find that you cannot log in after you change your password using Agora Portal. This is because the application will continue to try to log in with the old, locally stored, password. To correct this, see the application's online Help documents to learn how to delete or change a stored password.

Where can I use my password?
Use your password to access the BC network and most online BC services. When you change your password, it will take effect almost immediately on many applications. Some applications are updated overnight.
You can use your new password right now for:
Your password will be changed within a few minutes on:
UIS (TN3270 software a.k.a. CICS)
Note: Use the new password to log into UIS. Some faculty and staff also have a secondary UIS password that allows them to post business transactions. That secondary password in UIS will not change.
BC Personal Web Server (www2.bc.edu)
Windows Sign-On Windows users: This is the login you complete when you start your computer and enter your username, password, and domain (bc). You may find you need to restart your computer to regain network access after your password has been updated.
Over the next 24 hours, you may still need to use your old password on the following systems (updates occur overnight, unless otherwise indicated):