Navigation
bcpost: boston college's mailing list service
BCPost Navigation Basics
Access http://listserv.bc.edu and log in to the BCPost mailing list service.


After you log in, you will see the BCPost home page.


The banner menu displays in the upper right corner.
In BCPost, most menus display on the right side of the screen.

BCPost home page
The BCPost home page (see Figure 1) displays a welcome message; the BCPost banner with menu displays across the top of the screen and the User Information and Your Lists menus display on the right-hand side.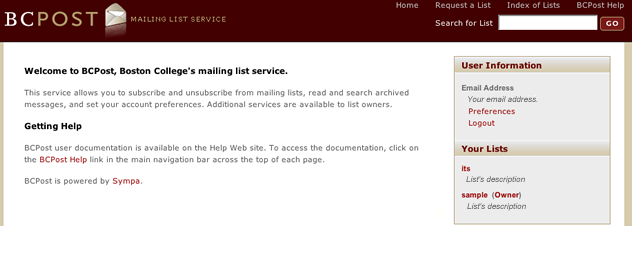 Figure 1.
Banner menu


Figure 2.
Across the top of the home page and all subsequent pages you will see the banner menu (see Figure 2). The banner menu provides links to the following:

Home - The home link will always return you to the BCPost home screen, not the home page for a particular list.
Request a List - The Request a List link will take you to the Request a New Mailing List window. Learn how to request a new list.

Index of Lists - List owners can select to have their list names and descriptions display in the Index of Lists; not every list will display in this section.
BCPost Help - Click on this link to go to the BCPost help documentation main page.
Search for List - You may use this field to search for a list. However, not all lists will be revealed since list owner's have the option to hide the list's visibility.
User Information menu


Figure 3.
Displays the email address you used to log in, a link to the user preferences menu, and a link to log out of BCPost.
Your Lists menu

Figure 4.
The Your List menu displays links to the list's home page for all of the lists that you are a subscriber (or owner). If you are the list owner, "(Owner)" will appear next to the list name. Click on the "(Owner)" link next to the name of the list to access list administration menus directly.
List Home page
The list home page is the main page for the list. It displays the list's subject and description, as well as links to the other functions available to users and owners of the list.
The list's subject is a brief, one-line overview about the list's purpose, content, and intended audience. It should give you a general idea of the list's purpose. The description provides more detailed information. Generally it contains information about the list's policies, whom to contact and other items too lengthy to summarize into the list's subject.
List Overview


Figure 5.
The List Overview section, shows the list name, address, subject, the number of subscribers, and the list's owner's names. You can click on the the List Address link to go to the post message window.
List Operations Menu


Figure 6.
The List Operations menu is accessible from each list's home page. List administration and subscriber settings are accessible from this menu.