Carney Dining Room
eat Drink Talk Think
Carney Dining Room in McElroy serves middle and upper campus with a schedule that runs from breakfast through late night The large dining room has a fun, casual atmosphere with high celings bright lights. The servery is under large tents that seem to float down from the high celings, which creates a carnival atmosphere.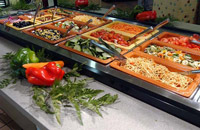 Carney's is one of the most popular dining halls, and serves almost 4000 meals a day with stations such as Mozzarella's Italian Cuisine, The Chestnut Hill Grill World Market, and The Taqueria. These stations serve everything from pizza and grilled chicken breast to tuna steak and quesadilla. We also offer a huge variety of grab and go items as well as a Salad Bar daily that features the freshest, and most local ingredients available.
View today's menu to see what we're featuring throught the day.