APAHM 2007 - Translation Beyond Words
asian pacific american heritage month

Written by Ryan Lo '07:
Asian Pacific American Heritage Month (APAHM) began its April celebrations with the fifth annual opening ceremony in the Gasson Hall Irish Room, featuring a sumptuous banquet from a various Asian cuisine and a keynote address from Phoebe Eng, a lecturer, strategist and author of the book, Warrior Lessons.
The ceremony was co-sponsored by 18 different BC organizations including the Office of AHANA Student Programs, Asian Studies Programs, Presidential Scholars, UGBC, and Women's Resource Center.
The theme for this year's event, "Translation Beyond Words," was reflected on each table setting with handcrafted notebooks containing a variety of Asian proverbs in their respective languages.
The event was coordinated by a team of volunteers from the APAHM Committee. The committee, co-headed by Ryan Lo, CSOM '07 and Melissa Eng-Wong, A&S '08, was composed of both students and staff members with a goal of raising awareness.
The event began with a brief introduction by Lo and Eng-Wong, followed by Phoebe Eng's keynote address. Eng is currently on the Advisory Board of the National Association of Asian American Professionals. She is a founding sister of the Asian Women's Corporate Network which is now the leading Asian women's philanthropy organization in the country. Her work has been featured in many media outlets including CNN, NPR, and the Wall Street Journal. BC English professor Dr. Min Song specializes in Asian-American and ethnic American literature. He introduced Eng by describing her writings and lectures as "unique", and "empowered", which raised the audience's attention.
Eng opened up her speech with the words "We are invisible no more!" She then asked the audience to stand with their arms raised, and say, "We have arrived," indicating the dramatic changes that Asian Pacific Americans have gone through over the past 20 years. She emphasized the concept of fluency "[It] is the art of understanding and being understood across any boundary." Eng said. By seeking out commonalities among seemingly different groups, we can develop more trust and cooperation which ultimately creates a new style of leadership. This idea is inspired by the Hawaiian concept of "ohana", which means family. "Ohana" describes how family, land and self are all interconnected because they are so heavily dependent on each other. Eng suggested that the best way to attaining cultural fluency, is by "losing assumptions and getting out of comfort zones."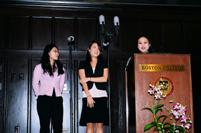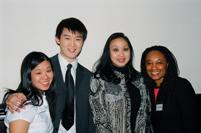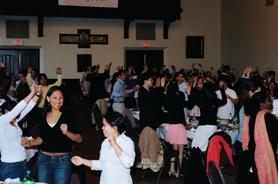 Calendar of Events:
4/10 Asian Food Night @ Stuart
4/11 Asian Food Night @ McElroy
4/12 CSA & SEASA Night Market @ Walsh 7th floor, 7pm
4/18 Asian Pacific American Festival @ O'Neill Plaza, 12-3pm, KSA Comfort Women Documentary @ TBA, 7pm, & Asian Food Night @ Lower
4/20 Asian Caucus Iron Chef Competition @ Dustbowl, 2-4pm, PSBC Presents Patricio Ginelsa @ Cushing 001, 7pm
4/21 VSA's Race for Rights @ Dustbowl, 12pm, SEASA's 16th Annual Culture Show @ Gasson 100, 6pm
4/25 SASA's Formal Dinner/Dance @ TBA
4/27 JCBC Movie Night @ TBA
4/30 Asian American Scholarship Banquet @ Murray Function Room, 5:30pm