APAHM 2004 - Undergraduate Experience: An Asian American Perspective
asian pacific american heritage month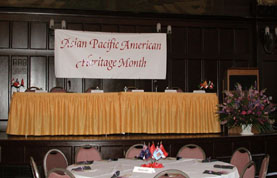 On April 6, 2004, Boston College hosted the Opening Event for the Second Annual Asian Pacific American Heritage Month. Held in Gasson Hall, the APAHM committee welcomed 150+ guests. The evening began with greetings from our emcees, Mr. Jose Esteban '04 and Ms. Megha Jain '05. Prof. Min Song of the English Department and American Studies Program then shared his thoughts on Asian American issues and the importance of having a strong Asian American Studies Program.
As guests indulged in foods representative of various Asian countries, they also enjoyed a panel discussion entitled " Undergraduate Experience: Asian American Perspective." Moderated by Sarah Ha '05, our five panelists (Cindy Uh '04, Gabriela Fullon '05, Reena Parikh '06, Thu Tien Nguyen '05, and Xin David Li '05) shared their experiences growing up in the U.S. and here at Boston College. Guests then had an opportunity to ask the panelists about their responses.
The evening wrapped up with the presentation of gifts to the panelists and warm thank you's to all our guests.
We are very happy and proud that our audience grew from 50+ at the 2003 Celebration to over 150 at this year's. With great thanks to our sponsors and supporters. APAHM 2004 Committee would like to extend their warmest gratitude to the Office of the Vice President of Student Affairs, Boston College Alumni Association, the Office of AHANA Student Programs, the Career Center, and the Presidential Scholars Program for their generous contributions. Additionally, we would like to thank all volunteers who have made this year's celebration a success.
APAHM 2004 Committee members: Alexis Sun '04, Cindy Uh '04, Gabriela Fullon '05, Inés Maturana Sendoya (OASP), Jennie Thomas (Presidential Scholars), Lillian Wang '04, Peter Oakes (Alumni), Sarah Ha '05, Siu Ming Luie (OASP), Steven Viverios (OASP), Tracy Pascua (Career Center), and Xin David Li '05.
We have already begun planning for APAHM 2005. To get involved, please contact the committee at apahm@bc.edu.
Pictures from the Opening Event on April 6, 2004 in Gasson Hall.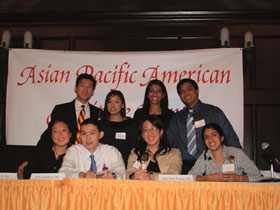 Top (from left): Thu Tien Nguyen '05, Sarah Ha '05, Megha Jain '05, Jose Esteban '04
Bottom (from left): Cindy Uh '04, David Xin Li '05, Gabriela Fullon '05, Reena Parikh' 06.
| | | |
| --- | --- | --- |
| | | |
| Panelists Cindy Uh and David Li | | Guest questions panelists about their experience |
| | | |
| | | |
| Panelists with moderator | | Some of the 150+ guests |