Social Work Library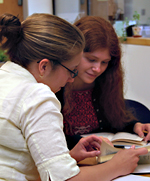 Located in McGuinn Hall, the Social Work Library supports the teaching and research needs of the Graduate School of Social Work.
The Social Work Library contains over 41,000 volumes, 400 serial titles, and many audiovisual titles. The library also has access to hundreds of journal databases and over 23,000 electronic journals. The library maintains extensive course management sites and electronic reserves for faculty and student use.
Librarians are available to help faculty and students with their research in person, by e-mail and by telephone. Twelve public computers are maintained by the library and an additional 15 computers are housed in a small GSSW lab within the library space. Wireless internet access, printing and photocopying are available.
About the Library
Library Services
News & Updates
You are Invited to Lunch at the Social Work Library!
Join us for a focus group and free lunch!
We need your input as we plan for a newly designed Social Work Library. The focus groups will be held in the Social Work Library at the following times:

Wednesday, March 12th from 1pm-2pm
Friday, March 14th from 12pm-1pm
Please rsvp to Nancy Adams if you plan to attend one of these focus groups. We hope to see you there—your opinion matters to us!
Spring Semester Hours

Monday-Thursday 8am-10pm
Fridays 8am-5pm
Saturdays 10am-6pm
Sundays 1pm-9pm