Target Mathematics
boston college mathematics institute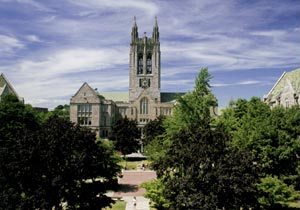 This five day, 6 hours per day, timely content course addressed the National Council of Teachers of Mathematics Principles and Standards for School Mathematics Content Strands: Number & Operations, Algebra, Geometry, Measurement, Data Analysis & Probability.
Course goals were
to deepen mathematical knowledge in particular by examining multiple approaches to topics and forging connections between strands;
to illustrate how teaching practice can be improved by illustrating how content can be effectively delivered. Plentiful examples of practice were drawn from the following five units of the standards-based ConnectedMathematics Project:

Frogs, Fleas and Painted Cubes
Growing, Growing, Growing
Looking for Pythagoras
Kaleidoscopes, Hubcaps, and Mirrors
Samples and Populations.
COURSE INSTRUCTORS
Stanley J. Bezuszka, S.J.
Director, Mathematics Institute
Anne Collins
Research Associate, Mathematics Institute
Margaret J. Kenney
Professor of Mathematics
COURSE LOCATION
Chestnut Hill Campus of Boston College
Scenes from the 2003 Summer Workshop