Ethical Issues Raised By the Plight Of Refugees and Other Displaced Persons
There are an estimated 35 million or more refugees and internally displaced people in the world today. These people have been driven from their homes by civil and international conflicts and natural. The sheer number of people who have been driven from their homes by civil and international conflicts and natural catastrophes poses unprecedented challenges, many of them ethical in nature. Coping with the plight of refugees and displaced persons, with their effects on the communities that receive them, and with the tasks of reconciliation and reconstruction in the aftermath of conflicts raises fundamental questions of moral responsibility and action for scholars and practitioners alike.
The Center has embarked upon this collaborative project in partnership with Catholic Relief Services, the Jesuit Refugee Service, and the Institute for Peace and International Relations at Hekima College of the Catholic University of Eastern Africa. It will identify and analyze the multidimensional issues raised by forced migration confronting those who seek to aid forced migrants in the African context. Greater clarity about these important ethical issues will inform the development of more effective political and humanitarian responses.
In October of 2006, the Center hosted the first phase of this project, a four-day conference in Nairobi Kenya entitled Ethical Responsibilities Toward Forced Migrants as a Framework for Advocacy. The conference brought together practitioners working with people displaced by humanitarian crises and academic specialists in the study of forced migration and social ethics. Ethical issues arising out of the conference discussions included refugee's freedom of movement, the gender dimension of forced migration, international responses to forced migration, as well as the need to recognize the plural identifications of refugees and internally displaced persons. A follow-up conference is to be held at Boston College in the fall of 2007.
Print more information here.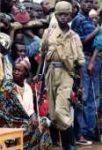 Learn more; link to sites of interest for this project.