Catholics and the 2008 Elections
Amy Sullivan, TIME Magazine
Michael Sean Winters, America and Catholic World Magazines
Alan Wolfe, Boston College (moderator)
Date: Thursday, October 9, 2008
Time: 4:30-6:00 PM
Location: Devlin 101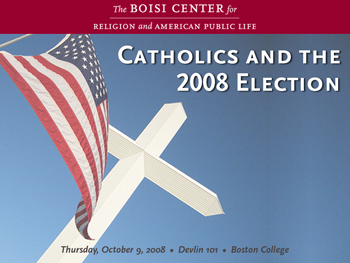 Faith and politics do mix, and America's 70 million Catholics are among the most important swing voters in the 2008 presidential election. The Church's official views, like those of American Catholics, are impossible to characterize as simply liberal or conservative, and each party is striving to maximize its appeal to Catholic voters in this tight election. Can the Democrats overcome the so-called "God gap" by appealing to Catholics on issues of faith, social justice and war? Can the Republicans continue their successful appeal to conservative Catholics on issues of sexuality, marriage and abortion? Join us for a lively panel discussion with experts on Catholics and American politics.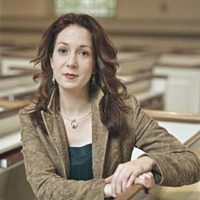 Amy Sullivan is a national correspondent for TIME magazine, and author of the book The Party Faithful: How and Why Democrats are Closing the God Gap (Scribner, 2008). Sullivan's work has appeared in publications including the Boston Globe, Los Angeles Times, The New Republic, and The Washington Post, and was included in The Best Political Writing 2006. She is a frequent guest on radio and television talk shows. Previously, Sullivan served as an editor of The Washington Monthly and worked for both the Pew Forum on Religion and Public Life and U.S. Senator Tom Daschle. She holds degrees from the University of Michigan and Harvard Divinity School.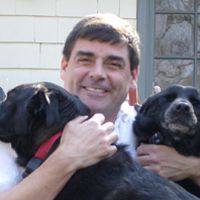 In 2002, National Journal's Hotline asked George Stephanopoulos, "Who is the most important person in Washington nobody has ever heard of?" He replied, "Michael Sean Winters." Michael Sean Winters is the author of the newly published book Left at the Altar: How the Democrats Lost the Catholics and How the Catholics Can Save the Democrats (Basic Books, 2008). He writes the daily political blog for the Jesuit magazine America and is the political columnist for The Catholic World. His articles have appeared in The New Republic, The New York Times Magazine, Slate and other publications. An alumnus of the Catholic University of America, Winters resides in Riverdale, Maryland and is a parishioner at the Cathedral of St. Matthew in Washington, D.C.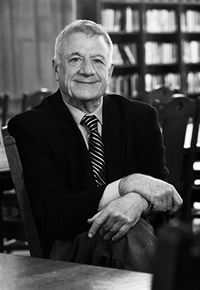 Alan Wolfe is the founding director of the Boisi Center and Professor of Political Science at Boston College. He is author of more than a dozen books, including The Future of Liberalism (Knopf, 2009), Does American Democracy Still Work? (Yale, 2006), One Nation After All (Penguin, 1999) and The Transformation of American Religion: How We actually Practice our Faith (Free Press, 2003). Widely considered one of the nation's most prominent public intellectuals, he is a frequent contributor to the New York Times, Washington Post, and Atlantic Monthly, and has delivered lectures across the United States, Europe and Middle East. (More info on Alan Wolfe...)