Alumni News
spring 2008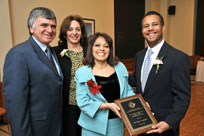 The presentation of this year's Father John A. Dineen, SJ, Hispanic Alumni Community Service Award drew more than 250 alumni, students, and friends, including (from left to right) GSSW Director of Field Education William F. Keaney, MSW'71, alumni committee cochair Vicky Barges '96, award recipient Olga Lattarulo, MSW'97, and Eric Liriano '88, president of Boston's Latino Professional Network.

PHOTO CREDIT: Justin Knight
Hispanic Alumni Reach New Heights


When Olga Lattarulo, MSW'97, received this year's Father John A. Dineen, SJ, Hispanic Alumni Community Service Award, it was not just a moment of personal recognition. It was also a celebration of the vibrancy of BC's Hispanic community and the University's commitment to engage this group. An event that began 15 years ago as a small award ceremony welcomed this year more than 250 alumni, friends, and current students to honor Lattarulo for her lifelong devotion to the Peruvian community and other immigrant groups.
"The ceremony draws alumni back to BC from across the country," says Eva Maynard '97, assistant director of alumni classes and affinity programs. The festivities also included the presentation of the Archbishop Oscar A. Romero Scholarship to Jennifer Castillo '09, who was recognized for her commitment to the ideals of social justice and service.
"The ceremony connects generations of alumni and students, while providing a backdrop to celebrate their contributions to society," says alumni committee cochair Vicky Barges '96. "Of course, it's also a chance to embrace our Hispanic culture, which is why the event featured a live Peruvian band."
Since 2005, BC's Latino Family Weekend has given alumni and other members of the University's burgeoning Hispanic community similar opportunities to forge relationships and celebrate their heritage. Maynard says the event has become increasingly popular given that Hispanics now comprise 8.2 percent of the total undergraduate population, up from 4.9 percent just 10 years ago.
Sponsored by the Organization of Latin American Affairs, the weekend annually unites alumni, students, and students' families for panel discussions on Hispanic-themed intellectual, social, and educational issues. More than 400 attended this year's festivities, held February 15–17. The weekend's annual "culture show," in which nearly 65 students performed musical and dance numbers, served as another focal point, while other highlights included Brazilian-themed arts and crafts activities for children and a dance in Lyons Hall.
"We would like Latino Family Weekend to rise to the same popularity and provide the same marquee events that have brought alumni back to campus for Black Family Weekend for the past 36 years," explains Maynard. "It's a wonderful opportunity to showcase diversity at BC."