Advancement News
spring 2008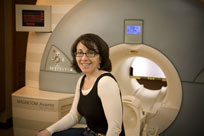 Professor Lisa Feldman Barrett uses functional magnetic resonance imaging to study the brain activity behind emotion. She's one of many BC faculty who integrate neuroscience with their research.
PHOTO CREDIT: Matthew Hakola
Gray Matters
Emotion is intrinsic to the human condition, but little is known about how we experience our feelings. Do we all become afraid, angry, or surprised in the same way? What role do context and language play in how we perceive, and express, how we feel? Faculty at Boston College are helping find answers to these and related questions by applying neuroscience to the study of emotion, which has traditionally been the sole domain of psychologists.

"We're essentially trying to understand the nature of emotion," explains Psychology Professor Lisa Feldman Barrett, who received a five-year, $2.5 million "Pioneer" award from the National Institutes of Health last fall to support her research. "By looking at what the brain is doing when you feel afraid, for example, we can better understand the decisions or actions you take as a result."

Through functional magnetic resonance imaging (or brain scans), Barrett tracks changes in blood flow in the brain when subjects experience different emotions. This study of brain activity is one form of neuroscience, a highly interdisciplinary field that uses biological, chemical, and physical principles to analyze the nervous system.

Barrett's interest in understanding how the brain produces emotional states is just one example of how Boston College faculty are integrating neuroscience with their research. Her colleagues in the psychology department are investigating the neurobiology of maternal behavior, eating patterns, memory, and motivation. Meanwhile, biologists are researching the molecular make-up of genes and proteins involved in the nervous system, and computer scientists are analyzing how neural networks can be altered to bring about faster learning.

"The brain is at the center of everything we experience, from the feelings we have to the decisions we make to the actions we undertake. Creating a better understanding of how the brain works promotes interdisciplinary research amongst students and faculty and will prove useful in a variety of academic fields," notes Barrett.