Advancement News
Summer 2009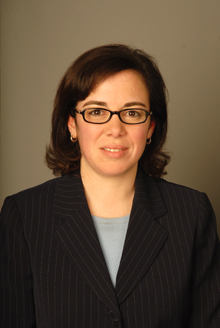 Lisa Calise Signori manages the City of Boston's $2.4-billion budget.
The Budget Czar
As Boston's "budget czar," the term applied by the Boston Business Journal, Lisa Calise Signori '90, tries to blend the calculating nature of a number cruncher with the empathetic inclination of a public servant—a practice she first honed at Boston College.

The economics major learned to balance courses such as "Econometric Methods," which covered the complex concepts of multicollinearity and heteroskedasticity, with her participation in PULSE, the service learning program that allowed her to work for Greater Boston Legal Services, which provides free legal assistance to low-income residents.

That focus on detail and duty has aided Calise Signori in her role as Boston's first director of Administration and Finance, which, in layman's terms, translates to being the COO and CFO for the City of Boston. Considered one of Mayor Thomas Menino's closest aides and a member of his finance team for 14 years, Calise Signori oversees an operating budget of $2.4 billion and more than 750 employees, while negotiating the twin pressures of reduced resources and expanding needs.
She says the recent financial downturn, while challenging, "allows us to think more creatively than we might have in order to make government more efficient while still giving residents the services they expect. Whatever resources and budget obligations we have, we will make it work."
Below, Calise Signori sums up her thoughts:
What is the most satisfying moment in your professional life?

Being named to my current position in July 2007.

What is your best BC memory?

Sitting in the Dust Bowl with friends.

What is one thing everyone should do while at BC?

Go to a concert to hear the Acoustics. I never would have gone out to hear an a cappella group, but a friend insisted I go and they were fantastic!

What was your favorite BC activity?

Going to basketball games—they were always so competitive.

What is something your friends don't know about you?

That I really love mornings.

Why did you decide to attend BC?

It seemed like BC would give me a great university experience—since it had the reputation for combining strong academics with a terrific social scene.

What is the secret to success?

Success to me is working hard, enjoying life, and being grateful for the small things.

Where is your favorite spot on the Heights?

Definitely the rotunda in Gasson Hall. I would get such an overpowering feeling standing there with the magnificent marble statue in front of me, the light coming down from above, and all those beautiful murals surrounding me on the walls.

What was your favorite BC class?

"Econometric Methods," along with my PULSE courses.

What was your first job?

Scooping ice cream.

Where did you live freshman year?

Cushing Hall.

How do you relax?

Walking my dog.

What would you do if you were BC president for a day?

I'd stand in the quad and meet every student who came along.

How much can you sing of the BC fight song?

I can only sing about three-quarters of it.