Advancement News
Summer 2009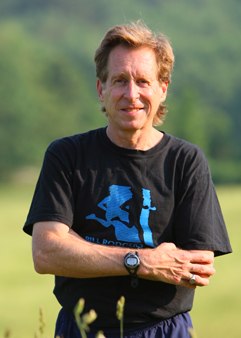 In April, running icon Bill Rodgers participated in his first Boston Marathon since 1999.
The Running Man
When Bill Rodgers, MA'75, passed the Heights during this year's Boston Marathon, he knew he'd complete his first attempt to run 26.2 miles since the Clinton administration. He had just conquered the formidable Newton hills and felt good—eventually finishing in 4:06:49.
Though his time was nearly two hours slower than the American record he set while claiming Boston 30 years earlier—in the midst of an incredible stretch from 1975 to 1980 when he won the Boston and New York marathons four times each—Rodgers wasn't too disappointed. Barely a year removed from successful cancer surgery and now 61 years old, "Boston Billy" was simply grateful to be back in the race that made him a running icon and gliding by the campus he once called home.
He first won Boston as an unheralded BC graduate student studying special education in 1975. He remembers training before and after classes and putting in 200-mile weeks during vacations. "Coming to BC helped me discover what I loved about teaching and running again," says Rodgers, who had previously done a little of both. "It was a place where I could develop and prepare for success both inside and outside the world of racing."
Below, Rodgers runs through his thoughts on life and BC:

What is the most satisfying moment in your professional life?

Winning Boston in '75.

In your personal life?

The birth of my kids, Elise and Erika.
What is your best BC memory?

Besides the teachers, who were so friendly and engaging, I enjoyed training at BC with the Greater Boston Track Club.
What was your favorite BC class?

Any of those that dealt with the causes of mental disability, which was an emerging subject back then.

What is one thing everyone should do while at BC?

Follow what you love. (And run the Boston Marathon!)

What do you look forward to each day?

Not my runs; sometimes they make me fearful. I look forward to the personal things, like talking with my family.

Why did you decide to attend BC?

A good GBTC teammate of mine, Don Ricciato [now director of the Boston College Campus School], introduced me to the special education program, and to this day I am grateful to him and to BC for their support.

What is the secret to success?

What did Edison say, "Success is 1% inspiration and 99% perspiration"? It might be the other way around. Inspiration is very important.

Where is your favorite spot on the Heights?

The crest of Heartbreak Hill.
What would you do if you were BC president for a day?

It'd try to resolve one key issue that was important to the students.

What was your first job?

After graduation, I was a special education teacher at the Hale School in Everett.

How have you changed since graduation?

I'm older, but that's about it!

How do you relax?

I relax through my running and by reading—I love the Boston Globe. I also love traveling and attend about 30 road races all over the United States each year.

What was your favorite BC activity?

Running with the GBTC around campus. The club was co-founded by Dick Mahoney [Class of 1972] and there was a big BC contingent at that time.

What is your next goal?

To always run better. To improve my finish time by one or two minutes in my next race.
What is something your friends don't know about you?

That I wish I had a good voice and could sing well.

How much can you sing of the BC fight song?

Almost none of it. Sorry!

Who would play you in the film version of your life?

Maybe Woody Allen, but he'd need to start putting in some miles!

What was the best meal at the BC dining hall?

I remember liking the pizza after my workouts.

Bill Rodgers didn't stray far from Boston College when he graduated, opening up the Bill Rodgers Running Center with his brother, Charlie, in nearby Cleveland Circle. While the store moved to Faneuil Hall in 1978, Rodgers always enjoys when BC students and alumni stop by to share. "I'm proud of my BC degree and love keeping that connection," he says.