Advancement News
Spring 2009
Dineen Riviezzo remains committed to BC's Jesuit ideals as a Bronx County Supreme Court justice.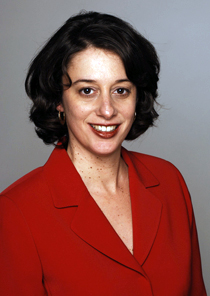 An Exercise in Good Judgment
As a Bronx County Supreme Court justice, Hon. Dineen Riviezzo '89 wants nothing more than to fulfill the Jesuit ideal of "men and women for others."
In fact, she's guided by that motto while presiding over a high number of drug-related cases in her court. "When I can get a young person into a drug treatment program and I see them do well," says Riviezzo, "that gives me a lot of satisfaction."
After graduating from BC and attending Georgetown Law, Riviezzo worked as a prosecutor and later as New York State inspector general before eventually becoming a judge in the New York State Court of Claims in 2006. "I was attracted to law because of the opportunity to help people and to make a difference," she says. "As a prosecutor, you're representing the state of New York, but as a judge, you're able to represent the best interests of both sides and make sure that the right thing is done in every case."
Riviezzo also lives her BC values through her commitment to the Alumni Association Board of Directors, where she's vice president and chair of the Spiritual Life Committee. "I encourage alums who are already involved to stay involved and those who aren't to find the opportunity to do so," she says.
What's the verdict on Riviezzo's answers? You be the judge:

What is the most satisfying moment in your professional life?

Being sworn in as a judge.

In your personal life?

Getting married last September to my wonderful husband, John, who, while not a Boston College grad, loves BC as much as I do!

What is your best BC memory?

I'm still humbled and grateful to have been chosen to give the Commencement address as chief marshal of the Order of the Cross and Crown.

What is your next goal?

To mentor young lawyers entering public service and to teach law school classes.

What is one thing everyone should do while at BC?

Take courses in subjects just because they interest you.

How have you changed since graduation?

I appreciate more than ever the opportunities that BC has given me to give back and to learn how to "find God in all things."

Why did you decide to attend BC?

To receive a well-rounded liberal arts education that emphasizes Jesuit ideals.

What is the secret to success?

Hard work, humility, and treating others as you would want to be treated.

Where is your favorite spot on the Heights?

Bapst Library.

What would you do if you were BC president for a day?

My brother, Al, BC Class of '92, said I should lobby Congress for a $20-billion package to expand the Mods.

What was your first job?

At BC, I was a work-study student in the Career Center and the School of Social Work Library.

Where did you live freshman year?

Duchesne Hall on Newton Campus.

How do you relax?

My husband and I like to walk aimlessly through New York City and explore different neighborhoods.

What was your favorite BC class?

Professor Donald Hafner's seminar on the Vietnam War.

What do you look forward to each day?

Watching a teenager who appears before me on a drug charge turn his life around by successfully completing a treatment program, entering job training, or finishing his education—and thereby avoiding jail and a criminal record.

What was your favorite BC activity?

Watching My Mother's Fleabag! Boy, those students were so funny and talented!

What is something your friends don't know about you?

I always wanted to be a lounge singer or perform in a rock 'n' roll band, however I can't sing! (Well, only in the shower!)

How much can you sing of the BC fight song?

A good portion of it. But I like the original wording: "For here men are men and their hearts are true…"

Who would play you in the film version of your life?
It is too early to consider such a thing! Hopefully there is much of the movie left to be written!

What was the best meal at the BC dining hall?

Hands down it was the tuna melt with tomato!