Advancement News
summer 2008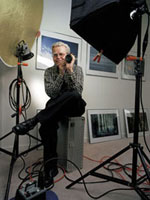 Robert A. Parker calls his life a "marriage of words, images, and design," and his photography has been featured in more than 20 solo shows.
In Focus
Robert A. Parker '50, P'84, bought his first camera, a Leica 3F, when he was a U.S. Army corporal stationed in Germany in the early 1950s—little realizing how photography would complement his future writing career.
A decade later, Parker was applying to corporate publications the same sense of design and proportion that photography requires—and starting to win awards as a writer and editor, as well as a photographer. "My life became a marriage of words, images, and design," he says.
Now retired, he calls photography "a blend of simplicity, isolation, and light." His images were recently featured in the BC online arts magazine, Epicenters, which published his photos of Hanseatic houses in Norway and a Utah rodeo, among others. Parker has also had more than 20 solo shows—from the Venezuelan Consulate in Manhattan to Fairleigh Dickinson University—and been in many juried exhibitions.
From his home in Nutley, New Jersey, Parker reflects on his hobby and his life:
What is the most satisfying moment in your professional life?
When Norman Pearlstine, then of The Wall Street Journal, congratulated me on creating FE (Financial Executive) magazine. I didn't even know who he was at the time!
In your personal life?
All the family moments that make life special: marriage, children, etc.
What is your best BC memory?
I was too shy as an undergraduate to have many, and I'm too old now to remember them!
What is your next goal?
To have a solo photography exhibit in a museum or commercial gallery.
What was the last book you read?
I average one novel a week—and write about each one. So that answer always changes.
How have you changed since graduation?
I write my own literary opinions now, rather than follow the critics.
What is the most important lesson in life?
Be a good person…with a capital "G."
What do you look forward to each day?
Creating something new in either images or words. Playwriting is my latest thing.
Who has influenced your life the most?
My wife, Margot. Her influence is subtle, but always wise.
Where is your favorite spot on the BC campus?
A library. Any library.
Where do you most like to travel on vacation?
Granada, Spain. I made friends with two families over there and returned 40 years later. They made it feel like two weeks.
Who would play you in the film version of your life?
Garrison Keillor from NPR's A Prairie Home Companion. People say he looks like me, and he's good-looking enough.
Where did you live freshman year?
In a house on Lake Shore Road in Brighton.
How much can you sing of the BC fight song?
I think I can mouth most of it, but I can't sing a note.
What is something your friends don't know about you?
I say the Rosary to myself every day.
What is the one meal you could eat for the rest of your life?
My menu would mix lobster and chocolate cake. But it'd be a boring life, and a very short one, if I had to do that.
What is the latest song on your iPod?
If I had one…it would be a Broadway show album, probably by Sondheim.
How do you relax?
By reading fiction, escaping into another world.
What would you tell your children if they wanted to attend Notre Dame?
That it's a great school, but they should pick BC, because the city of Boston beats Indiana sand dunes.
What is the one thing everyone should do?
Do unto others as you would have them do unto you.