Advancement News
Spring 2009
Ernest J. Moniz served as under secretary of the U.S. Department of Energy during the Clinton administration and his research remains at the nexus of energy, science, and technology.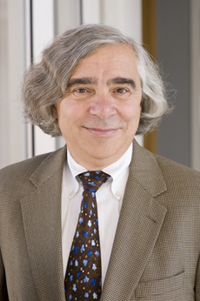 Energy Matters
When Ernest J. Moniz '66 was about to speak before a Congressional committee, the story goes, the chairman of the committee, a powerful member of Congress, introduced him by saying, "I like Dr. Moniz. He knows stuff."

Moniz began learning his "stuff" as a physics major at BC—later adding a doctorate in theoretical physics from Stanford. He joined the MIT faculty in 1973 and is currently the Cecil and Ida Green Professor of Physics and Engineering Systems. He also directs the institution's Energy Initiative and its Laboratory for Energy and the Environment.

No stranger to the national stage, Moniz served as under secretary of the U.S. Department of Energy from 1997 to 2001, and spent two prior years as associate director for science in the President's Office of Science and Technology Policy.
A viable energy policy is instrumental to the nation's prosperity, according to Moniz, who sees reducing global carbon emissions as the next big challenge. "It's perhaps the primary area for the application of science, engineering, and policy to meet real human needs," he says.
Below, Moniz reflects upon his career and his alma mater:
What is the most satisfying moment in your professional life?
A career spanning more than four decades has, for me, satisfying periods rather than moments, and they coincide with opportunities to help a community of researchers, students, and citizens: in physics, building new laboratory capabilities and a new research program for nuclear scientists across the country; in clean energy, guiding an MIT initiative involving hundreds of researchers looking to transform the energy landscape; in government, restarting a U.S.-Russian collaboration to dispose of nuclear weapons material.
In your personal life?

My 36 years of marriage to my wife, Naomi.
What is your best BC memory?

The extraordinary opportunity as a Scholar of the College to work under the tutelage of Professor Joe Chen.

What is your next goal?

Get better at fly-fishing.
What is one thing everyone should do while at BC?

Take every opportunity to do research as an undergraduate.

How have you changed since graduation?

My biggest change in outlook came from public service during the Clinton administration—physics sometimes looked easy compared to doing the people's business!

Why did you decide to attend BC?

BC was rapidly raising the quality of its research and educational programs, and yet preserving the opportunity for close association with faculty.

What is the secret to success?

Hard work, core values, and high standards—all without compromise.

Where is your favorite spot on the Heights?

Alumni Stadium.

What would you do if you were BC president for a day?

Expand undergraduate research opportunities.