Advancement News
summer 2008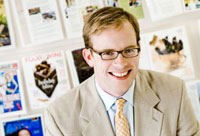 Dave McLaughlin's On Broadway won the 2007 Director's Choice Award at the Boston Irish Film Festival.
Boston Narrative

Much the way Dublin provided the rich texture for James Joyce's fiction, Boston has done so thus far for award-winning independent filmmaker Dave McLaughlin '95. The youngest of 11 siblings, eight of whom graduated from BC, McLaughlin has made two movies layered in "Bostonia"—Southie (1998), a drama about a young man (Donnie Wahlberg) who returns home to South Boston to find his family allied with the Irish mafia, and On Broadway (2007), a film about a Boston playwright (Joey McIntyre) who quits his job to start a theater in the back of an Irish pub. On Broadway won the 2007 Director's Choice Award at the Boston Irish Film Festival.
Like many of his characters who lead complicated lives, McLaughlin offers more than what meets the eye. When he's not writing screenplays or directing, he serves as vice president of the Boston-based agency marlo marketing/communications.
Below, McLaughlin reveals part of the inspiration behind his moviemaking:
What is the most satisfying moment in your professional life?
Whenever I see my work affect someone else's worldview, it's enormously gratifying. For example, a man at a film festival in Michigan stopped me in the street after seeing On Broadway and broke into tears as he compared his relationship with his father to the one in the movie.
In your personal life?
Becoming a father.
What is your best BC memory?
A&S Honors discussions with Professor Mark O'Connor.
What is your next goal?
Besides writing stories, I have several concurrent goals. I'm building a new professional services area at my firm, trying to create a virtual community of Bostonians who promote business opportunities in the city, and supporting the effort to transform the Boston Irish Film Festival into the Irish diaspora's most significant, forward-looking cultural event.
What was the last book you read?
The Long Tail: Why the Future of Business Is Selling Less of More by Chris Anderson.
How have you changed since graduation?
I understand my talents and my limitations a little better.
What is the most important lesson in life?
Grab every chance to be generous.
What do you look forward to each day?
Spending time with smart, creative people.
Who has influenced your life the most?
My parents: Economics Professor Francis McLaughlin '54, MA'57, and Clare Carr McLaughlin, M.Ed.'73.
Where is your favorite spot on the BC campus?
My father's office. He's got a great recliner—it's some sort of green plastic faux leather. At least I think he still has it.
Where do you most like to travel on vacation?
Maine, Ireland, and northern California.
Who would play you in the film version of your life?
I make movies myself, so it's really hard to say.
Where did you live freshman year?
Loyola Hall.
How much can you sing of the BC fight song?
A lot. I've been hearing it my whole life. I have eight older siblings who attended BC. In fact, not only can I sing it, I actually had planned to include it in the film On Broadway. I cut it out, however, in the editing room. Sorry, it just didn't work.
What is something your friends don't know about you?
Many of my friends would be surprised to know how much I enjoy the business aspects of my various projects as opposed to just the artistic pieces.
What is the one meal you could eat for the rest of your life?
Tuna sandwich and a cup of tea.
What is the latest song on your iPod?
"The Weakest Shade of Blue" by Pernice Brothers.
How do you relax?
I walk around the city. I get into good conversations with friends. I watch films. I run a little.
What would you tell your children if they wanted to attend Notre Dame?
Get a scholarship, kid.
What is the one thing everyone should do?
Introduce themselves to people they don't know at parties and events. And they should try things they're likely to fail at.