Advancement News
spring 2008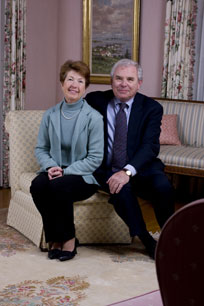 James Mahoney Jr. '65 with
wife Sarah Ann.



In Step with BC's Future
Five miles isn't very far. That's the distance James Mahoney Jr. '65 traveled each day from his childhood home in Needham to the Boston College campus. It was a quick trip, but when Mahoney reached the Heights he knew that he had crossed over to a different world—one where he discovered a lifelong appreciation for economics, and for the University itself.
Back then, Boston College was a very different place, populated largely by students who, like him, were from Boston and its surrounding suburbs. More than 40 years later, BC has grown into a large, national university with students from all 50 states and dozens of foreign countries. "Today, you can probably count the number of commuters on two hands," he says.
While Mahoney has embraced BC's growth, he finds it more significant that his alma mater has maintained its Jesuit Catholic identity throughout the decades. "I'm a strong believer in BC because it provides a great education that is rooted in a very solid ethical foundation," he explains.
Ever since his college days, Mahoney has been an active participant in keeping this foundation strong. As an undergraduate, he served as a class officer in student government for three years and participated in the Gold Key Society, supporting the University's mission of public service.
Upon graduation, Mahoney earned his MBA at the University of Illinois and pursued a successful business career in the Boston area. After working for Deloitte & Touche LLP, he entered the investment business, first with Evergreen Funds and then Cowen and Company, LLC. In 1983, Mahoney left Cowen to establish HLM Venture Partners, from which he retired in 2004. Today, he is the president of The Mahoney Group, an investment firm, and is active on the boards of many public companies and charitable organizations.
Having successfully invested in and managed companies throughout his career, Mahoney knows a thing or two about how effective leadership can transform an organization - BC in particular. "I'm very excited about BC's Institutional Master Plan and the path that President Leahy has set for the University," he says. "I'm particularly proud of BC's initiative to nurture scientific research, especially undergraduate research, on campus."
Mahoney also sees himself as part of the University's future, and he strives to support BC in as many ways as he can. "I'm happy to cheer the men's hockey team as a season ticket holder, but being an alum means doing so much more than that," he explains. "My wife, Sarah Ann, and I make an annual gift to the BC Fund, and we're patrons of the McMullen Museum of Art. We are also volunteers on the Shaw Society Steering Committee and have made a planned gift. By supporting the University philanthropically, we're helping BC achieve its aspirations for the future."