Advancement News
Summer 2007
A View from the Sidelines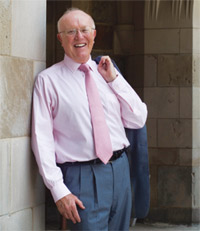 Robert J. King '62 of Richmond, Virginia, was cochair of his 45th
reunion gift committee.
When Bob King now enters Fulton Hall, he often remembers the pivotal moment that brought him to BC. In 1957, King was a high school senior from Haverhill trying to decide which college to attend when he visited the Heights for the first time, and Fulton Hall had a dining hall. "I sat down with some students in the Fulton dining room for a bite to eat, got into a great conversation, and knew immediately BC was where I wanted to be," recalls King.
Not only prophetic, King's first impression of life on the Heights is indicative of the strong attachment he felt to BC as an undergraduate and continues to experience today. While a student, King forged relationships with exceptional professors and a career placement advisor, George Donaldson, who helped prepare him, as an economics major, for a successful career in finance. Also during his time on campus, he was introduced to the role he still plays today, although in a decidedly different incarnation: a BC cheerleader.
Clad in a white and maroon sweater, King and his fellow cheerleaders rallied along the sidelines of Alumni Stadium rooting on the BC football team. King's crew "just a bunch of guys who enjoyed watching sports" also traveled locally to games at Holy Cross and Boston University with the football team, but unlike BC cheerleaders today, they did not travel outside the state, let alone across the country. Further describing himself as an "old-fashioned cheerleader," King jokes that he fortunately was not expected to master the "hyperkinetic somersaulting that accompanies today's cheerleading."
Since graduating from the sidelines over 45 years ago, King has remained a steadfast supporter of BC athletics. Now, many years later, he and his wife travel from their home in Richmond, Virginia, to BC football games, home and away, and to as many other BC games as possible. "I am continually impressed by the high caliber of the student-athletes who attend BC, and I want to do all that I can to support them and the athletic department," says King. To this end, he and his wife, Margaret, have established two scholarship funds—the King Family Football Scholarship and the King Family Athletics Scholarship—that provide scholarships to football players and general student-athletes, respectively.
King recently found another avenue for supporting his alma mater as co-chair of his 45th reunion gift committee. As he did so many years ago as a cheerleader, King found himself again trying to build school spirit among his classmates to support BC. "I love this school, and I love the upward direction we're heading," says King. "I want to do everything I can to help us get there."