Advancement News
Fall 2008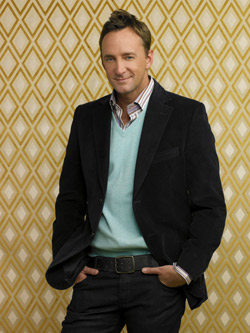 Clinton Kelly's successful TV show, What Not to Wear, has catapulted him to fashion icon status.
Sharped Dress Man
Clinton Kelly '91
By Matthew Bellico
It's August in New York and the midday heat is worthy of lyrics by the Lovin' Spoonful. There doesn't seem to be a shadow in the city, and a surprising number of tourists and native New Yorkers alike are using the temperature as an excuse to wear bejeweled tank tops, athletic apparel, and anything else that fits either too loosely or too tightly.
Think bohemia meets the Yankee Stadium souvenir shop.
Generally, I'm not on the lookout for borderline fashion, but today the power of Clinton Kelly compels me. As the cohost of the ridiculously popular television series What Not to Wear, Kelly has made his living convincing sartorially challenged women to throw away their mismatched and ill-fitting ensembles for more appropriate choices.
I met up with the style icon at the BBC America studios near Gramercy Park in midtown Manhattan, where Kelly and cohost Stacy London are completing the last leg of a 12-month shooting schedule in which they'll film 45 episodes for the show's marathon sixth season.
Dressed in a blue and white floral shirt and designer jeans by Rock and Republic, Kelly is a portrait of relaxed coolness on this muggy day. He seems unfazed by the heat, by the grueling shooting schedule, and by the fact that it's 3:30 p.m. and he's already worked three jobs today.
"I had no intention of becoming a workaholic. None," says Kelly, who turns 40 next year. "But I've become one and it works for me."
This morning he awoke in his TriBeCa apartment at 6:30 a.m., and wrote his weekly style column for the Chicago Tribune's RedEye newspaper. He then spent the rest of the morning and early afternoon in the fashion district, where he chose fabrics and consulted with designers for his QVC clothing line. A quick stop home and then it was on to What Not to Wear, which usually wraps around 7:00 p.m.
On his days off, Kelly serves as a spokesperson for Macy's stores, which he promotes through TV commercials and in-store fashion seminars, and he recently penned a hilariously insightful guide to modern style, titled Freakin' Fabulous: How to Dress, Speak, Behave, Eat, Drink, Entertain, Decorate, and Generally Be Better Than Everyone Else.
It's like Kelly to pick a tongue-in-cheek title. He knows he's not solving global warming or negotiating peace in the Middle East, but he's still brokering his own kind of ceasefire in the ongoing battle between women and their self-image.
"I would say it's really rare that a woman completely accepts her body as it is, and for all its 'faults,'" explains Kelly. "They say, 'Oh, they don't make clothes for me. I've got fat ankles.' Or they say, 'They don't make clothes for me. I've got a really long torso.' Women have to stop being so negative and just try to feel good about themselves."
That's been Kelly's mission since 2003, when the What Not to Wear executives picked him to replace the show's male cohost before its second season. At the time, he was executive editor of DNR, a men's fashion and retail trade magazine.
He admittedly knew men's style and had previously worked with female models, but had never styled "real women" before.
Says Kelly, "I remember one of the first women I made over was someone named Oretha. She was five feet tall and she had a triple-F bust with a very large midsection. I had no idea what to do with that. I had no idea. So I was definitely in over my head for the first year. There was a steep learning curve, but now that I've dressed hundreds of bodies, there's not one that I couldn't dress."
But in the end, it's not Kelly's sense of style, but his I-need-to-trash-your-wardrobe-but-it's-all-in-good-fun persona that helps him connect with both audience and guests. Not an easy feat when the week's designated fashion victim usually finds her favorite clothes in a garbage can 11 minutes into the show.
While both Kelly and cohost Stacy London routinely chide guests for their style decisions, Kelly is more the "good cop," gently, but firmly, letting 30-something professionals know that they have to discard their SpongeBob SquarePants T-shirt or that pajama bottoms aren't appropriate for grocery shopping.
Moriah, a 23-year-old Philadelphian with a penchant for frumpy sun dresses, is the guest when I arrive on set. Over the past several days, she's traveled to New York, confronted the show's infamous 360-degree mirror, had her old clothing tossed, and purchased new ensembles based on guidelines set by Kelly and London.
Apparently, she was in quite a fragile state the day before. "My self-confidence was shot, especially after seeing myself in the 360-degree mirror. But then Clinton came up to me after filming and we started talking. I asked him about good places for Asian food and he ended up taking me out for Korean," she explains.
"We laughed, we told jokes. It was like talking to an old friend. I could feel that he was building up my self-esteem not because it was the right thing to do, but because he truly cared."
She later composed a lengthy thank-you note to him before shooting the final scenes of the episode. In fact, Kelly's received more than a few parting gifts over the years—including a multivolume guide to fine food and a voodoo doll based on his likeness—all of which he keeps in his office.
One could argue that Kelly's empathy for his guests stems from his own fashion faux pas growing up in Port Jefferson Station, New York.
"It was 1987 in Long Island. It was the capital of big hair," explains Kelly, who once sported a Flock of Seagulls-type poof. "Everybody was wearing acid-wash jeans. I had a pair of what I called 'triple threats.' They were pleated acid-wash tapered jeans. I thought, at the time, they were so cool. But they must have been hideous."
Still, he considered himself to be the only preppy kid in his high school. "And then I went to Boston College," he says, "and I remember thinking, 'Wow! I'm home!'"
In fact it was Lisa Birnbach's description of BC in The Official Preppy Handbook that first piqued his interest in the school. And after visiting the campus and interviewing with a current student, he was sold: "It fit into my idea of the perfect college experience."
It certainly had enough majors to keep him occupied. He originally focused on psychology, but later changed to economics. That led to environmental geosciences, and finally to communications.
"I only took classes that I liked," he stresses. "So I looked through the course offerings and there was Advanced Advertising. And I thought, 'Oh, sounds like fun. How to Write for TV? That sounds like fun.'"
But it was Robert Chibka's fiction writing course that Kelly credits with forcing him to focus his talents, eventually leading him to the Medill School of Journalism at Northwestern University.
He attained his master's and concentrated specifically on magazine publishing. But it was years of freelance writing that followed. "I was in my 20s, living in New York City," says Kelly. "I almost didn't care. All I cared about was, 'Can I pay the rent?' Basically, so I don't get kicked out. If I only had five dollars for the week, I'd be fine. I'd have a hot dog for lunch and another hot dog for dinner. It didn't faze me at all."
Then, one evening at a friend's home, he happened to pick up an issue of the women's magazine Marie Claire. He'd never heard of it before, and upon flipping through it, he was treated to article after typical article about fashion, relationships, and beauty. "I thought it was hilarious," he laughs. "I said, 'This magazine is silly. I want to work for them.'"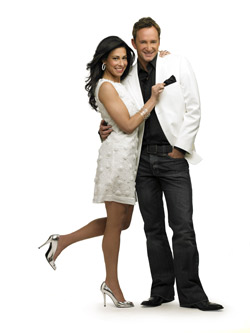 Since 2003, Kelly and cohost Stacy London have admonished guests to exchange their old wardrobes for more flattering choices.
Without any contacts, he wrote to the editor in chief and explained, "I don't know you from a hole in the wall. You don't know me from a hole in the wall. But give me 15 minutes of your time. I'll come in with 100 story ideas."
Though only 10 or so were used in the magazine, he did enough to eventually earn an editor position—cutting his teeth in the fashion industry with Marie Claire for two years.
Kelly called himself the "What do men think of your _____?" editor. As the only man on Marie Claire's editorial staff, he was tasked with discerning men's attitudes on anything related to the fairer sex: their skirts, their apartments, their shoes, their bodies.
"It would be, 'Could one of you do this story on what men think about women's hair?' So then I would have to convince women to put on wigs or something and then have men comment on what they thought about their hair," he recalls.
"And it got really old really fast. It was fun for a little bit. And then I thought, 'I've got to get out of here. I cannot make my living doing this.'"
So Kelly moved to rival Mademoiselle, where he served as deputy editor for a year, and then became executive editor of DNR, the well-respected men's fashion and retail trade magazine. For two and a half years he provided the inside scoop on men's style trends and developed a strong reputation for both his fashion knowledge and his professionalism.
His work didn't go unnoticed by the producers of What Not to Wear, a British import that hit TLC (previously The Learning Channel) earlier in 2003. They were recasting the male lead after the first season and Kelly was soon on their short list. Three auditions and two weeks later, he had the job. The whole whirlwind was a bit surprising to him.
"I'd heard of What Not to Wear," he admits, "but I'd never been able to sit through an entire episode. I really couldn't stand it. I saw one episode and I thought, 'Oh no. So that's what I'm doing?'"
But from Kelly's first take, viewers could see that he was naturally at ease in front of the camera—turning into a self-described ham. In fact, Kelly and London have made the show quite addictive, even for those who don't live and die by women's fashion. You sit down for a few minutes and the hour-long show is over before you can say "skinny jeans."
The show's emotional arc, punctuated by lighthearted quips and eye rolling, and the fact that TLC usually packages the program in four- or five-hour blocks, only compounds the problem.
I ran into a young school psychologist at the Shake Shack in Madison Square Park who was only too happy to tell me that she regularly watches several hours in a row, usually on Friday night. Sparing the postmodern cultural analysis, it's actually quite simple: People like to see others succeed—especially when the stylistically impaired give us all a little extra hope.
"I thought it was all about fashion," says guest Moriah, before she revealed her final outfits to Kelly and London that hot afternoon. "But it's about feeling good on the outside and the inside. I know it sounds so fake, because the entire experience was only four days, but I think I finally learned to leave my past behind and become more confident."
Kelly says that's why he keeps coming back season after season. So, take it easy if you see him on the street. "I used to get a lot of flack when I was coming back from the gym," he laughs. "I'd be in workout shorts and a sweaty T-shirt and people would shout, 'That's what not to wear!'"