Advancement News
Winter 2008
Choosing a Lifetime Relationship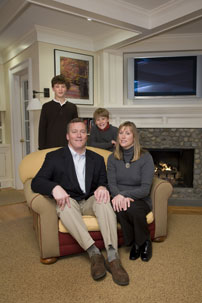 Scott Harrington '85 with wife Kathleen '87 and children Jack (left) and Scooter.
Scott Harrington '85 toured universities across the country as a high school senior. A blue chip football prospect from Westwood, Massachusetts, the defensive tackle was in high demand.
During his first Boston College campus visit, he spent a weekend at either Ignacio or Rubenstein hall. ("It was so long ago, I don't think those hillside dorms were even named yet," he chuckles.) What Harrington does recall was the enthusiasm he found at the Heights. "Everyone I met was excited to be at BC. I saw how important the school was to them," he says. "From there, I looked even closer at BC's academic reputation, which I knew was strong. The whole recruitment process wasn't long for me. I knew this was where I was supposed to be."
By the time he walked off a football field for the last time, following BC's frigid battle in the 1985 Cotton Bowl, the senior captain had more than helped secure the school's first bowl victory in 44 years. He had also given himself a chance for success beyond the gridiron.
Never one to neglect his studies in the Carroll School of Management, Harrington rose quickly in the financial field and is presently managing director of JPMorgan Securities. "Apart from strong academic training, a business education must provide a broader perspective that shows you how to connect with people," he says. "So much of being business savvy is the ability to communicate and that's something I learned at the Carroll School."
Harrington also met his wife, Kathleen '87, while at BC—one more way the University has made a significant impact upon his life.
"When you decide upon a university, most people think you're merely picking your destination for the next four years," explains Harrington. "At Boston College, you're choosing a lifetime relationship with a special institution. Since graduation, BC has been a community that I can always return to: whether it's watching football games at Alumni Stadium, attending University-sponsored events through my local alumni chapter, or connecting with new and old friends through my work on the BC Fund Executive Committee."
Harrington has also stayed engaged with the University through the Wall Street Council, which serves as a networking group for graduates in the financial profession and has helped raise more than $10 million for BC's Presidential Scholars Program.
He believes this type of alumni commitment is essential to BC's future.
"The University has enjoyed an upward trajectory since I graduated in 1985. I've been proud to see it rise in the academic rankings and become more selective. But BC's accomplishments aren't an accident. One constant has been the pride my fellow graduates take in their alma mater. Only with the support of past alumni has BC achieved its current prominence, and its success can only continue through the commitment of today's alumni. It remains crucial that alumni actively assist BC through both their financial contributions and their time and effort."