Advancement News
Winter 2009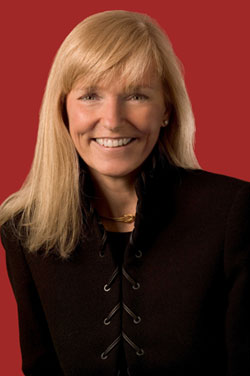 Advertising executive Susan McManama Gianinno won the 2008 MATRIX Award for Women in Communications.
As Good As Advertised
A successful advertising executive must know a thing or two about human psychology—something that's never been a problem for Susan McManama Gianinno '70, P'93. She graduated from BC with a bachelor's degree in the discipline and was pursuing her doctorate in behavioral psychology at the University of Chicago when a serendipitous meeting led to a job in advertising. Academia's loss became Madison Avenue's gain.

Since 2003, Gianinno has been chairman and CEO of Publicis USA, one of the nation's leading ad agency networks. She oversees all North American operations for the Paris-based group, which provides advertising solutions to such heavyweights as Procter & Gamble, L'Oréal, Hewlett-Packard, and Citigroup.

As business changes in the digital age, Gianinno is making sure Publicis evolves too. "We've led the charge to retrain employees and revamp the organization so that it offers a full complement of digital services to meet the needs of our clients," she says.

Gianinno spends her "down time" assisting BC as a trustee associate and has been on the board since 1991.

Below, Gianinno shares her thoughts on her career and her alma mater:

What is the most satisfying moment in your professional life?
Among many: Winning the 2008 MATRIX Award for Women in Communications and serving as chair of the Advertising Council.

In your personal life?
Watching the development of my daughter, Alexandra '93, who is the deputy executive director of the State Department's Bureau of Consular Affairs.

What is your best BC memory?
Meeting my husband, Lawrence Gianinno '70.

What is your next goal?
Finding a way to balance work with family.

How much can you sing of the BC fight song?
Do you mean the fight song that starts, "Sweep Down the Field…" or "For Boston…?" I know all the words to both of them.

How have you changed since graduation?
The core of who I am hasn't changed much, but my worldview has expanded because of the network of people I've met.

What is the most important lesson in life?
To always keep in perspective what really matters and make decisions accordingly.

What have you enjoyed about being a trustee and trustee associate at BC?
I've loved working with Fr. Monan, Fr. Leahy, and the amazing people on the board throughout the years. I've chaired the Academic Affairs Committee and have been part of some exciting personnel decisions, such as hiring Provost and Dean of Faculties Bert Garza.

Who has influenced your life the most?
My father, who's the best physician and the most principled person I've ever known. (Gianinno's father, John McManama '37, was a physician for BC Athletics for more than 40 years until he recently retired.)

Where is your favorite spot on the BC campus?
Bapst Library.

Where did you live freshman year?
I commuted from my home in Waltham.

For what other ad agencies have you worked?
I started my first advertising job in 1980 at DDB Needham Worldwide, where I worked on the McDonald's account. Since then, I've held positions at D'Arcy, Masius, Benton & Bowles Worldwide, J. Walter Thompson New York, and Young & Rubicam, where I worked for 12 years.

Do you have any career aspirations beyond Publicis?
I would like to return to psychology in an academic setting.

How has your background in psychology propelled your success in advertising? Understanding people's motivations and desires is at the root of what makes advertising work.

What was the last book you read?
Outliers: The Story of Success by Malcolm Gladwell.

Where do you most like to travel on vacation?
To Humarock, Massachusetts, where my family has had a home since 1920.

How do you relax?
To tell the truth, I don't relax very much. But when I do, I spend it with my family. I also enjoy walking and hiking.

What do you look forward to each day?
The new challenges that my job presents.