Advancement News
Summer 2009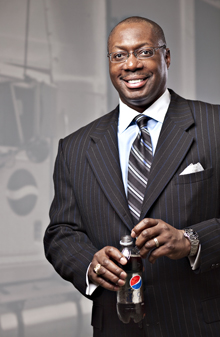 Victor Crawford has transitioned from the football field to the board room as a Pepsi executive.
The Bottling Rocket
The first defensive back in BC history to amass 100 tackles in a season, Victor Crawford '83 has gone on to tackle the consumer beverage industry. The senior vice president of Global Operations and System Transformation at Pepsi Bottling Group, Crawford oversees the complete manufacturing and supply chain of the beverage giant's worldwide operations.
"I love the challenge of heading up operations for a company that is on an upward trajectory and has such broad consumer appeal," says Crawford.
Crawford's career itself has been on the upswing. Prior to rejoining Pepsi in 2005, he worked for several years at Marriott International, where he rose to become senior vice president. This followed his first 10-year stint at Pepsi in various senior management positions.
Crawford's success has neither fizzled nor gone unrecognized. He was recently selected as one of the "100 Most Powerful Executives in Corporate America" by Black Enterprise magazine.

Below, Crawford shares some personal and professional insights:

What is the most satisfying moment in your professional life?

There are two: earning my first assignment as vice president and leading our Greater Chicago division.

In your personal life?

Among many: getting married and having six daughters, becoming the first of my siblings to graduate from college, and being named "All-East" my senior year.

What is your best BC memory?

My senior year and the football season.

What was your favorite BC class?

I can recall two in particular: "Cost Accounting," which I still draw upon, and a theology course on the history of the Jewish people in the New Testament.

What is one thing everyone should do while at BC?

Spend a summer in Boston.

How have you changed since graduation?

As a father, I've become concerned about sustaining the environment for my children and future generations.

Why did you decide to attend BC?

I knew that BC had a great business school and would give me an opportunity to play football as an underclassman.

What is the secret to success?

Leadership—which starts with developing people. A person must also have a high level of discipline, a strong internal drive, and the ability to respect and value differences.

Where is your favorite spot on the Heights?

Alumni Stadium. I spent a lot of time there as a student-athlete, and I've been a football season-ticket holder ever since.

What would you do if you were BC president for a day?

I'd convene a task force at BC to study why as a nation we have far fewer college graduates than high school graduates.

What was your first job?

At age 11, I was a newspaper carrier for the Detroit News. I had a good business sense even back then. I was able to expand my route by 150 percent!

Where did you live freshman year?

Both Roncalli and Edmonds halls.

How do you relax?

I read, play golf, and work out. I like being outdoors. I used to play recreational basketball, but stopped at age 32.

What is your next goal?

To join the board of directors of a public company.

What do you look forward to each day?

My workout each morning. I'm interested in health, diet, and exercise, so I can increase my longevity and be there for my family.

What was your favorite BC activity?

Besides football, I enjoyed playing racquetball in the Plex. I made a lot of friends through racquetball.

What is something your friends don't know about you?

My love for cooking. Having worked at Marriott for five years, I learned a good deal about cooking. I make lasagna and a mean gumbo.

How much can you sing of the BC fight song?

Even after pulling the lyrics off the Athletics website, not very much.

Who would play you in the film version of your life?

A young Sidney Poitier. I met him in the Bahamas once and was shocked at how tall he was. I think he always carried himself with class. If I were to choose a modern actor, I'd go with Laurence Fishburne, who's played a great range of characters over the years.

What was the best meal at the BC dining hall?

Prime rib—the football team had a training table.