Advancement News
Spring 2009
Alina Cho covers some of the world's most compelling stories as a CNN correspondent.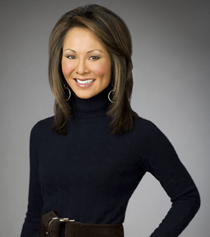 Spreading the News
If a major story breaks in any corner of the globe, there's an excellent chance you'll get the scoop from Alina Cho '93. A television correspondent for the cable news giant CNN and a contributor to its American Morning program, Cho has reported on historic happenings that include the election of President Barack Obama, the aftermath of Hurricane Katrina, and the New York Philharmonic's landmark concert last year in Pyongyang, North Korea.
"I love to tell great stories," Cho says. "I also believe that on some level, journalism is a public service. That part of my job is extremely gratifying." As she narrates the world's stories, Cho has had the opportunity to meet and interview many luminaries, among them Oprah Winfrey, South Korean President Lee Myung-bak, and the entire cast of Saturday Night Live.
"The truth is I just can't imagine doing anything but journalism," she says. "I always joke that I don't have the skills to do anything else."
Below, Cho takes a moment to report on her own life:
What is the most satisfying moment in your professional life?
Covering the New York Philharmonic in North Korea was the assignment of a lifetime. It was also a personal journey. My parents were born in South Korea, and my family believes that my father's two uncles who disappeared during the Korean War might still be there. I didn't find them on this trip, but I hope to find my relatives someday.
In your personal life?
I've owned my apartment in New York for nearly nine years, but I'm just now finishing a complete renovation. That has been a labor of love.
What is your best BC memory?
Driving 15 hours to South Bend my senior year to watch the first Holy War football game between BC and Notre Dame in many years. I seem to recall finding cold pizza in my Jeep.
What is your next goal?
I'd really just like to keep doing what I'm doing. I love my work.
What was your favorite BC activity?
Meeting people who have become lifelong friends.
How have you changed since graduation?
I'm moderately more responsible.
Why did you decide to attend BC?
I always say BC is the best combination of great academics and great fun.
What is the secret to success?
Self-confidence, hard work, good connections, and good luck.
Where is your favorite spot on the Heights?
The Mods. I'd hate to see them go.
What would you do if you were BC president for a day?
I'd cancel finals.
What was your first job?
I was a weekend morning reporter for Chicagoland Television, Chicago's 24-hour local cable channel.
Where did you live freshman year?
Duchesne West. I loved Newton Campus!
How do you relax?
Sleeping more than five hours a night.
What was your favorite BC class?
I don't recall a particular class, but BC is where I cemented my love for journalism.
What do you look forward to each day?
Again, sleeping more than five hours a night.
What is the one thing everyone should do while at BC?
Spend some time at Mary Ann's.
What is something your friends don't know about you?
I love to eat at Boston Market! I always look for one when I'm traveling on assignment.
How much can you sing of the BC fight song?
Not a word. (Once her memory was jogged about what the BC fight song is.)
Who would play you in the film version of your life?
Sienna Miller.
What was the best meal at the BC dining hall?
Anything at the Eagles Nest was always great.