Advancement News
Winter 2007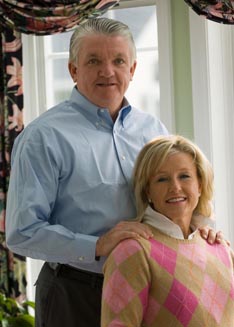 Parents for Others
Seated in the audience at the Parents' Weekend liturgy last fall, Din and Carol Cahill knew that the words of Father Jack Butler's homily formed the essence of why they are part of the BC family. Beloved by students for his inspired, often humorous Sunday night sermons, Father Jack was describing the Boston College experience. His message to all parents and listeners: BC is more than an academic institution; it's a special place that encourages its students to go out and make a difference in the world.
To Din and Carol Cahill, the parents of two BC students—Daniel '03, now in a graduate program at the Carroll School of Management, and Kristen '08—BC stands out as a wonderful environment for anyone's children, not just their own. "Our children have had great experiences here," says Din. "BC truly educates the whole person. It's not just about what happens in the classroom; there's an emphasis on service to others."
Though neither Din nor Carol attended BC, both feel a strong connection to the University, built in equal parts by their children's experiences and their own participation.
The Cahills have devoted many hours of their time to BC in addition to their generous philanthropy. They serve as co-chairs of the Parents' Leadership Council, whose members act as ambassadors for the University in reaching out to its community of parents. By hosting receptions for incoming freshmen at their home in Latham, N.Y., during the summer; leading efforts to support the Parents' Fund; and assisting during Parents' Weekend, the Cahills have become important members of the BC family.
"It's been absolutely worth our while," says Din of their involvement. "We've met so many people through the First Year Experience office, the Athletics Department, and the Parents' Leadership Council. We've had wonderful times at Parents' Weekend."
In March 2006, Din and Carol received the Outstanding Parent Volunteer Award for their support and dedication. "It's a tremendous honor because there are so many great families doing volunteer work at this university."
It is exactly this culture of service that sets BC apart from other schools, in the Cahills' eyes. If performing service is a tradition often passed down from parents to children, it is especially true in the Cahills' case. According to Din, his own children have been dedicated to volunteer work while at BC, primarily with the Campus School—a BC-run day school for children who have multiple disabilities.
The notion of homines pro aliis, or men and women for others, as exemplified by their own children and thousands of other students, excites Din and Carol Cahill.
"There are so many kids at BC who are capable of having an impact on the world," says Din. "Not just from a financial standpoint, but from a standpoint of giving back to the community. If we can help them get there, we want to do it."