Class Notes Profile
spring 2008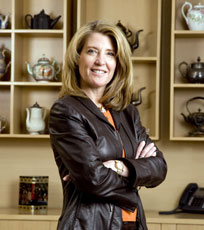 As president of R.C. Bigelow, Inc., Cynthia Bigelow is as committed to her employees as she is to the success of her family's business.
Tea Time
"My grandmother would be shocked. Shocked, but proud," says Cynthia Bigelow '82, referring to the growth of her family's business in a voice that's equal parts laughter and reverence. Laughter because Bigelow laughs often and makes friends quickly—treating new acquaintances like old friends and old friends like family. Reverence because she's speaking of Ruth Campbell Bigelow, the late family matriarch who started Bigelow Tea in her kitchen in 1945.
As company president, Bigelow is tasked with carrying her mantle as a talented businesswoman and with maintaining R.C. Bigelow, Inc.'s #1 position in the U.S. specialty tea category. (It produces more than 1.4 billion tea bags annually.) She says new flavor development and strategic partnerships with companies like beverage giant Arizona to produce a variety of teas based on their popular iced drinks keep her company innovative.
She also takes pride in the respect given to all her employees. "Hopefully their job satisfaction spreads not only into all parts of their work, but also into their personal lives. I feel that's critical as an employer," she says.
Here, Bigelow provides her take on life and her BC experience:
What is the most satisfying moment in your professional life?
I try to make a difference every day, so I don't look back that often.
In your personal life?
Same rules apply.
What is your next goal?
To keep growing our business so that our 350 employees can still support their families in 10 years and my kids can work here if they want to.
What was the last book you read?
Doing What Matters by James M. Kilts, John F. Manfredi, and Robert Lorber.
What is your best BC memory?
After being scared and lonely my first semester freshman year, walking on Newton Campus on a warm spring day and seeing other students playing lacrosse, and reading and laughing. I said to myself, "This is good. I'm happy and ready for this now."
What is the most important lesson in life?
Treat every day as if it's a gift.
What do you look forward to each day?
Living. Making a difference for someone in some way.
Who has influenced your life the most?
No question. My father.
How have you changed since graduation?
Like a bottle of wine, I hope I'm improving with age.
What is the latest song on your iPod?
Vienna Teng's "Harbor."
Where do you most like to travel on vacation?
Our small place on Long Island—with an emphasis on small. But it's quiet and peaceful.
Who would play you in the film version of your life?
Helen Hunt.
Where did you live freshman year?
Keyes North.
How much can you sing of the BC fight song?
I could maybe scratch through the first refrain.
What is something your friends don't know about you?
That's pretty hard to say, because I'm such an open book.
What is the one meal you could eat for the rest of your life?
It's pretty boring and pathetic, but spinach salad or any kind of salad.
Where is your favorite spot on the BC campus?
Lyons Hall. Because it has the Rat, where we used to have our dances.
How do you relax?
I just recently got into yoga. But I also walk and play tennis, and I love to ski in the winter.
What would you tell your children if they wanted to attend Notre Dame?
I'd say, "Are you kidding me?" True story: My son is applying to both Notre Dame and BC, but if he got accepted to both, he told me he'd choose BC.
What is the one thing everyone should do?
Be kind to all the people around you.