Alumni News
fall 2008
Alumnae Help Students Begin Their Career Journey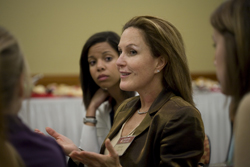 CWBC's "Beginning the Journey" event gives alumnae like Wendy J. Murphy '83 an opportunity to share advice with BC students. Murphy is a CBS News legal analyst and an adjunct professor at New England School of Law.
Today's students will likely have multiple careers in their lifetime, so members of the Council for Women of Boston College introduced BC's female undergraduates to a wide range of professions at a "Beginning the Journey" event on October 8.
More than 200 BC juniors and seniors attended the annual fall gathering, which provided students with an opportunity to discuss career paths with 16 alumnae facilitators who have distinguished themselves in fields such as finance, medicine, communications, education, and public service.
The event, which was held at the Yawkey Athletics Center, has grown each year since its inception in 2003, becoming a key vehicle for alumnae to build meaningful connections with current students.
"Our alumnae have compelling personal stories," says Mary Lou Jackson, Ph.D.'02, an event cochair and alumnae mentor. "We want students to learn from the experiences of the women who went before them."
Jylanne Dunne '81, who also served as an event cochair, provided one such story. A senior vice president at Fidelity Investments, Dunne discussed her 25 years experience in the financial services industry and her recent career move at the senior executive level.
In small roundtable discussions arranged by profession, the alumnae facilitators also stressed the need for students to reflect upon their individual journeys and career goals. By doing so, they'll "develop their own forceful presentations at interviews," says Jackson, who serves as a consultant for special projects at Stonehill College.
"These women are invaluable resources to BC students," says Catherine McCool, a senior in the Carroll School of Management and chair of the Council's student advisory board. "'Beginning the Journey' differs from other networking events on campus in that the variety of career backgrounds present allows students of all majors and interests to gain new perspectives on career opportunities."
Other "Beginning the Journey" sessions aimed at young alumnae have been held in New York, San Francisco, Chicago, and Washington, D.C. The Council also provides "Continuing the Journey" programming for alumnae who are returning to the workforce.
For more information, visit www.bc.edu/cwbc.