Gift Planning
life income gifts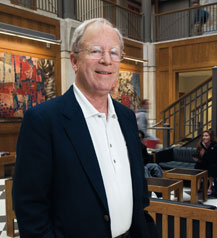 Click here to read to read the story of Kevin McCabe '64.
Many Boston College alumni have made gifts to the University that provide payments for life. This approach can be especially attractive if the gift is funded with highly appreciated assets such as stock or real estate. Gift plans that provide payments include charitable gift annuities and charitable remainder trusts.
When you establish a life income plan you provide an irrevocable gift to Boston College. Your donated assets are invested to provide a payment stream for you and/or another beneficiary. Depending on the gift you make, your payment can be fixed or variable over your lifetime. If you make your gift with appreciated property, you can reduce your capital gains taxes.
In addition, you also receive a charitable income tax deduction that you can use in the year in which you make your gift. When the plan ends, the remaining assets of your gift will benefit the department or program at Boston College that you specifically designated.
Summary of possible benefits:
Satisfaction in supporting an area of Boston College that is important to you
Payments over a lifetime(s) for you and/or one other beneficiary
An immediate charitable income tax deduction
Reduction or deferral of capital gains taxes on gifts of long-term appreciated property
Reduction in federal estate taxes
Membership in the Shaw Society, Boston College's recognition society for those who have made a planned gift.
BC's most popular life income gifts are charitable gift annuities and charitable remainder trusts:
The information on this site is not intended as legal, tax or investment advice. For such advice, please consult an attorney, tax professional or investment professional.