Legacy Giving
bequests
Click here to read the story of James M. Quinn '52.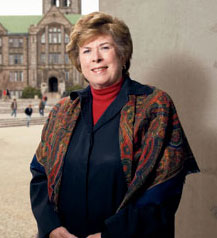 Click here to read the story of Barbara O'Connell '58.
A bequest to Boston College can be a powerful expression of your faith in the future of the University. A legacy gift provides significant future support to Boston College, while allowing you to retain the flexibility to update your plans as circumstances change. If you would like to join classmates and friends in the Shaw Society by making a bequest, simply include the following language in your will or trust:
I hereby give to the Trustees of Boston College, a Massachusetts educational, charitable corporation, tax identification number 04-2103545, (hereinafter referred to as "Boston College"), an educational institution located in Chestnut Hill, Massachusetts, the following described property: __________
OR the sum of: __________.
OR __________ percent (_______%) of the residue of my estate.
Boston College shall use this gift
Examples:
. . . where the need is greatest.
. . . at the President's discretion.
. . . to provide scholarships to worthy and needy students.
. . . for the College of Arts and Sciences.
. . . for the Carroll School of Management
. . . for the Law School
. . . for athletics.

Bequests may be further restricted, for example, to establish a scholarship or fellowship. All assets, including cash, securities, real estate, and tangible personal property, may be transferred to Boston College through your estate. You may also wish to consider naming the University as the beneficiary of your qualified retirement plan or a life insurance policy.
The Office of Gift Planning staff is ready to consult with you and/or your advisor about bequests to Boston College, and to help you with any question you may have about other forms of charitable giving that may benefit you, your family, and Boston College.
Summary of benefits:
Satisfaction in supporting an area of Boston College that is important to you.
A bequest is deductible for federal estate tax purposes.
There is no limit on the amount of estate tax charitable deduction.
Bequests are generally not subject to state inheritance taxes.
Those who notify us of their intention to include Boston College in their will become members of the Shaw Society.
For more information, please contact the Office of Gift Planning.
The information on this site is not intended as legal, tax, or investment advice. For such advice, please consult an attorney or a tax or investment professional.