2008 Irish Studies Film Series
Thursday, March 13
West Newton Cinema
Once (2007)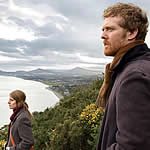 7:00 pm (95 minutes)
Director: John Carney
Producer: Martina Niland
Production company: The Irish Film Board)
Cast: Glen Hansgard, Markéta Irglová, Hugh Walsh, Geoff Minogue
The film tells the story of a street musician and a Czech immigrant during an eventful week as they write, rehearse and record songs that reveal their unique love story.
Sunday, March 16
West Newton Cinema
Pavee Lackeen (2005)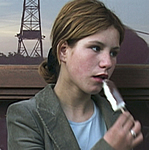 6:00pm (88 minutes)
Director: Perry Ogden
Producers: Perry Ogden, Martina Niland
Production company: An Leóir Films
Main cast: Winnie Maughan, Rose Maughan, Rosie Maughan
Winnie is a 10-year-old Irish Traveler girl, who lives with her mother and siblings in a dilapidated trailer in an industrialized area of Dublin. The film follows Winnie as she struggles with her identity as a young Traveler in contemporary Ireland.
Small Engine Repair (2006)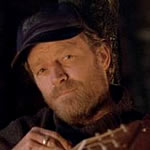 8:00pm (100 minutes)
Director: Niall Heery
Producers: Tristan Orpen Lynch, Dominic Wright
Production company: Subotica Entertainment
Cast: Iain Glen, Steven Mackintosh, Stuart Graham, Laurence Kinlan
Doug, an aspiring country singer, has spent his life as a loser in a small town. His wife has left him and only his best friend believes in his talent. He only has one last chance to make it.
Monday, March 17
West Newton Cinema
The Front Line (2006)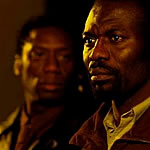 7:00pm (95 minutes)
Director: David Gleeson
Producers: Nathalie Lichtenhaeler, James Flynn, Philipp Homberg, Adrian Sturges, Lena Rehnberg
Production company: Wide Eye Films
Cast: Eriq Ebouaney, Gerard McSorley, James Frain
The Front Line tells the story of Joe Yumba, a musician from the Democratic Republic of Congo, whose application for asylum in Ireland has been approved. His world is turned upside down when Dublin's underworld makes him an offer he cannot refuse.
Kings (2007)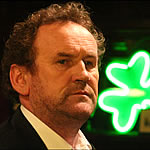 9:00pm (88 minutes)
Director: Tom Collins
Producer: Jackie Larkin
Production company: Newgrange Pictures
Cast: Colm Meaney, Donal O'Kelly, Brendan Conway, Donncha Crowley, Barry Barnes
Adapted from the Jimmy Murphy play The Kings of Kilburn Road, Kings tells the story of a group of friends who emigrated to England in the late 1970s promising to return to Ireland rich and successful. Now 25 years on, only one of them is going home, Jackie. His body was found on the railway, crushed by a passing train. Jackie's friends are forced to confront the possibility that his death was no accident, but suicide.
Wednesday, March 26
Higgins 300
Get Collins
7:00pm (52 minutes)
Director: Steve Carson
The popular image of the Irish War of Independence is of the Flying Columns battling with British troops in the hills of Cork and Tipperary. In truth, however, several of the decisive battles were fought in the streets of Dublin. Extensively dramatized, Get Collins reveals the network of 'backchannels': how, at the height of the war, secret contacts were made between British officials and Michael Collins himself.
* Robert Savage, co-director of the Irish Studies Department, will introduce the film
Wednesday, April 2
Higgins 300

Ábhar Machnaimh (Colman Doyle)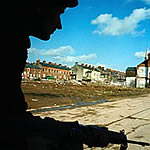 7:00pm (52 minutes)
Director: James Kelly
The Irish Press Group, at the height of its success, was selling well over a million newspapers a week. Colman Doyle was the Press's lead photographer, and for the paper's millions of readers, he was the chief eyewitness to all that was happening across Ireland. This film follows Colman as he returns to remote West Kerry, to reconnect with the people and places he first photographed over 50 years ago.
Wednesday, April 9
Higgins 310

Liam O'Flaherty
7:00pm (52 minutes)
Directed by Macdara Ó Curraighín
This film chronicles the life and work of writer Liam O'Flaherty. This fascinating profile includes archive footage and still pictures, which have never been seen publicly before.
* Introduced by Irish Studies faculty member Phil O'Leary

Wednesday, April 16
Higgins 300
Mise: Sean Ó Ríordáin
7:00pm (52 minutes)
Director: Traolach Ó Buachalla
Mise: Seán Ó Riordáin is a powerful evocation of the life of poet and essayist, Seán Ó Riordáin. As a young man, he was diagnosed with tuberculosis, and, though he lived until the age of 60, he was frequently in poor health and bed-ridden. Poet Louis de Paor explores the wealth of Ó Riordáin's poetry, visits the sources of his inspiration, and talks to key figures to unearth the real story of the man.
* Introduced by Louis de Paor, National University of Ireland, Galway.
Rob Savage co-director of the Irish Studies Program at Boston College organizes the Irish Film Series.
Special thanks to: Aoife Coughlin and Karen Wall at the Irish Film Institute; Reel Ireland; Jim and Dave Bramante at the West Newton Cinema, Bórd Scannán na hÉireann; Subotica Entertainment; Wide Eye Films; TG4, the Irish Arts Council, Animo Limited, Rónán O Muirthile, Máire Harris, Gael-Linn, Stuart Strutin, Panorama Entertainment, Louis De Paor, Eamonn Bonner, the BC Offices of Marketing and Communications, Rosanne Pellegrini the Office of Public Affairs, Morgan Adams, and Liz Sullivan.