2009 Irish Studies Film Series
The Boston College Irish Studies program has always considered film to be an integral part of Ireland's complex culture. In March of 2009 the Irish Film Series marks its eighth year with a number of highly acclaimed feature and documentary films. Once again, Irish Studies is working with Reel Ireland, part of the Irish Film Institute in Dublin to showcase the best in contemporary Irish film.

The series has been developed with the support of the West Newton Cinema, an independently owned and operated art house cinema that has gained a reputation for screening innovative American and international films.

Film screenings at Boston College are free and open to the public.

Thursday, March 12
Cushing Hall Rm 001

On Another Man's Wound (2008)

6:30pm (55 minutes)
Director/producer: Jerry O'Callaghan
Production company: Black Rock Pictures
On Another Man's Wound details the turbulent life of writer Ernie O'Malley who is best known for his role as an IRA leader in the War of Independence and the Civil War. The contributors of the film assess O'Malley's role in Irish independence and the nature of revolution.
* Cormac O'Malley, Ernie O'Malley's son, will introduce the film.


Sunday, March 15
West Newton Cinema
Oileán Thoraí (2002)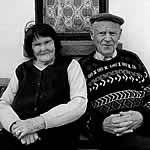 6:00pm (52 minutes)
Director/producer: Pat Collins
Production company: Harvest Films
Oileán Thoraí's (Tory Island) notorious inaccessibility and unforgiving landscape has not deterred 150 people from making this island their home. Oileán Thoraí captures, over the course of 18 months, the changing patterns of life on the island



Garage (2007)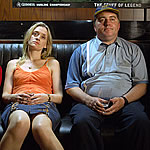 7:00pm (85 minutes)
Director: Lenny Abrahamson
Producers: Ed Guiney and Andrew Lowe
Production company: Element Pictures
Cast: Pat Shortt, Anne-Marie Duff, Conor J Ryan
Josie has spent 20 years as the caretaker of a crumbling gas station in small-town Ireland. Garage is the story of Josie's hapless search for intimacy over the course of a summer which sees his niche threatened and his life changed forever. Garage was the winner of the CICAE Art and Essai Cinema Prize at the Cannes Film Festival and the Best Film Prize at the Turin Film Festival.


Monday, March 16
West Newton Cinema
Inis Airc, Bás Oileáin (Inishark, Death of an Island) (2006)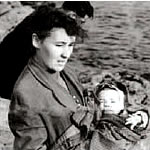 6:00pm (50 minutes)
Director/producer: Kieran Concannon
Production company: C-Board Films
This film looks at life on Inishark, an island whose resilient community had survived for centuries until its evacuation in 1960. The story, told by surviving islanders, is brought to life with previously unseen 8mm archive film and newsreel footage.



32A (2007)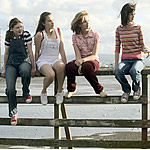 7:00pm (95 minutes)
Director: Marian Quinn
Producer: Tommy Weir; Co-producer: Roshanak Behesht Nedjad
Production company: Janey Pictures and Flying Moon
Cast: Ailish McCarthy, Sophie Jo Wasson, Orla Long, Riona Smith, Aidan Quinn
The summer holidays beckon for 13-year old Maeve Brennan and her trio of friends, Ruth, Orla and Claire. An encounter with Brian Power, the local heartthrob, sets Maeve on a collision course with her friends and family.

Tuesday, March 17
West Newton Cinema

Saviours (2008)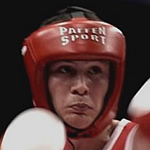 6:00pm (78 minutes)
Directors: Ross Whitaker and Liam Nolan
Producers: Ross Whitaker
Production company: Street Films
Saviours is an intimate, gripping documentary following three young boxers from the same Dublin boxing club, St. Saviours Olympic Boxing Academy. The club is a safe haven amongst the dangerous flats of Dublin's north inner city, where, under the guidance of the club's coaches, three boxers fight for a better life both inside and outside the ring.

Learning Gravity (2007)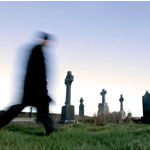 7:30pm (70 minutes)
Director: Cathal Black
Producer: Aisling Ahmed and James Mitchell
Production company: Little Bird Productions
Part manifesto and part memoir, Learning Gravity chronicles the life of Thomas Lynch, the renowned poet and essayist whose work won the American Book Award and inspired the HBO series Six Feet Under. Narrated by Lynch, Learning Gravity touches on the Lynch family's roots on the west coast of Ireland and its stories from the family business of funeral home management in Michigan.

Wednesday, March 18
McGuinn Hall 121

Right Now Ladies and Gentleman (2005)

6:30pm (9 minutes)
Director: John Paul Murphy
Producer: Rebecca O'Flanagan
Production Company: Rubicon Films
Cast: Eamonn Owens, Pat Kinevane, Barry Murphy
Right Now Ladies and Gentleman is a darkly comic tale of a lonely young man who is persecuted by an over zealous pub bouncer.


Saviours (2008)
6:40pm (78 minutes)
[See March 17 for film description]

Thursday, March 19
Cushing Hall Rm 001

Fleá Ceoil (1967)
6:30pm (22 minutes)
Director/producer: Louis Marcus
Production company: Gael Linn
Fleá Ceoil captures the resurgence of interest in traditional Irish music in the 1960s when Irish folk singers like Dolly McMahon, who appears in the film, were seen as part of a worldwide boom in folk music.

O'Donoghue's Opera (1965)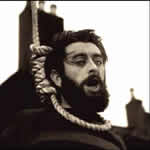 7:00pm (37 minutes)
Director/producer: Kevin Sheldon
Cast: Ronnie Drew, Luke Kelly, Ciaran Bourke, and Barney McKenna
O'Donoghue's Opera stars Ronnie Drew and his band of bohemian merrymakers, The Dubliners. Drew finds himself caught in a hangman's noose as a reward for his dubious career as "the best burglar in all Ireland." The film was shot in 1965, but was left uncompleted after the production ran into financial difficulties. In 1996, filmmaker Sé Merry Doyle oversaw its restoration, and it has since garnered cult status.
* Sullivan Artist in Residence Séamus Connolly will introduce both films.
Thursday, March 26
Cushing Hall Rm 001

Lecture: Coming into Clover by Peter Flynn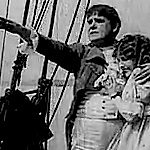 6:30pm (71 minutes)
Director: Peter Flynn
Producer: Dawn Morrissey
Production company: Boston Irish Film Festival Productions
Coming into Clover traces the evolution of cinematic representations of Ireland and the Irish in early American cinema. From the birth of the medium in 1895 until the full emergence of the so-called Hollywood system in 1917, these images underwent a fascinating transformation with the crude "stage Irish" stereotypes of Paddy and Bridget steadily giving way to a more diverse set of representations beginning in the 1910s.


The Boston College Irish Film Series is organized by Rob Savage and would not be possible without the support of the Irish Film Institute, Reel Ireland, TG4 and the West Newton Cinema. Special thanks to Aoife Coughlin, Proinsias Ni Ghrainne, Pat Collins, Jim Cahill, Kieran Concannon, Jerry Calahan, John Paul Murphy, David Bramante, Ian Delehany and Rachel Bowes.