Irish Studies Program
an interdisciplinary approach to the study of irish culture & society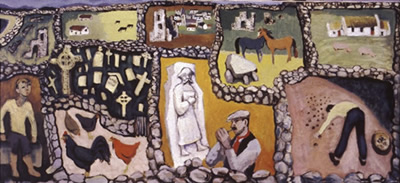 Gerard Dillon (1916-71), The Little Fields.
© The National Gallery of Ireland, used with permission

The Irish Studies Program at Boston College offers an interdisciplinary approach to the study of Irish culture and society. Individual undergraduate and graduate courses address social, political and economic history, literature, medieval arts, sociology, music, and the Irish language. The extensive Irish collections of the Burns and O'Neill Libraries enhance each of these, while offering a wealth of resources to all Boston College students and faculty.
The William B. Neenan, S.J. Visiting Fellowship at Boston College-Ireland
Applications are invited for the William B. Neenan, S.J. Visiting Fellowship, to be held at Boston College-Ireland, during 2016. The Fellowship is named to honour the work of Fr. Neenan, who first came to Boston College in 1979 as the first Thomas I. Gasson Professor. He served as dean of the College of Arts and Sciences from 1980 to 1987 before assuming the role of academic vice president and dean of faculties. During his tenure, the University established itself among the nation's top institutions of higher education. Since 1998, he has been vice president and special assistant to the president.
The Fellowship is open to any scholar working in the field of Irish Studies, and requires a period of time to research in Dublin. The Fellowship can be held at any time during 2016, and must be held for a minimum of two months during the course of the year. The holder of the Fellowship will be awarded a stipend of €5,000, and have an office in the Boston College-Ireland building, and administrative support during their term. They will also work with Boston College-Ireland to stage a one day research symposium based around their research interests.
The closing date for the Fellowship is 4 December 2015. To apply, please send your curriculum vitae, plus an explanation of the research you wish to undertake in Ireland and details of proposed outputs to Professor Mike Cronin, croninmr@bc.edu.
Professor Mike Cronin
Boston College
43 St Stephen's Green
Dublin 2
Ireland
+353-1-6147450