Young Political Leaders
April 4 - 14, 2006 in Boston, MA, Richmond, VA, and Washington, DC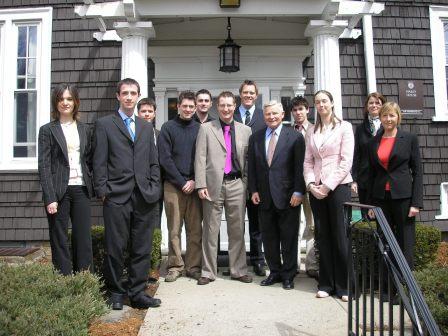 The Irish Institute at Boston College is pleased to have hosted the Young Leaders Program, which took place in Boston, Massachusetts, Richmond, VA, and Washington, D.C., April 4-14, 2006. Bringing together fourteen young political and community leaders from the Republic of Ireland and Northern Ireland, this ten-day program examined how young people in the U.S. acquire leadership skills to influence public policy and improve community life.
The Young Leaders Program featured academic seminars and meetings with elected officials, youth leadership organizers, public policymakers, and community leaders, and included meetings in Boston with Kerry Healey, Lieutenant Governor of the Commonwealth of Massachusetts; William Bulger, past President of the Massachusetts State Senate; Sam Yoon, Boston City Councilor; Professor Alan Wolfe, Director for the Boisi Center for Religion and American Public Life, Boston College; Representative Peter Koutoujian, Massachusetts State Representative; Atiya Dangleben, Statewide Director, MassVOTE; Corey Kurtz, Irish Immigration Center; Tom Keady, Vice President of Governmental Affairs, Boston College; and Professor Marc Landy, Boston College, among others.
While in Richmond and Washington, D.C., the group had the opportunity to meet with Ambassador John Bruton, Ambassador of the European Union to the United States; John Podesta, President of the Center for American Progress, and former Chief of Staff to President Clinton; staff of U.S. Congressman Michael Capuano; Professor Thad Williamson, Jepson School of Leadership, University of Richmond; Charles Moore, Legislative Director of Oxfam America; Lois Nembhard, the Deputy Director of AmeriCorps; Jane Fleming, Executive Director of Young Democrats of America; and Jean Doherty, Director of Operations for the Democratic National Committee.