Corporate Citizenship Program
Boston & San Francisco, CA - January 22nd – February 1st, 2008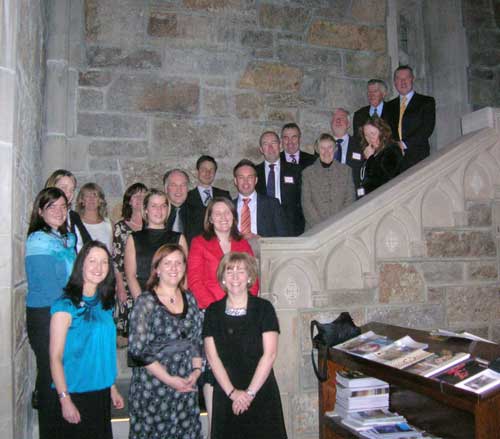 The cities of Boston and San Francisco played host to a group of fourteen corporate community relations professionals and non-profit managers from Ireland and Northern Ireland in January last. The visitors were participants on a program examining trends and practices in the area of corporate social responsibility. The ten-day study visit was designed and delivered by the Irish Institute at Boston College and funded through the U.S. Department of State's Bureau of Educational and Cultural Affairs. The Irish Institute's mission is to support the peace and reconciliation process on the island through the provision of educational seminars and programs for public officials, business leaders, and educators. This is the tenth year in which their programs have received funding from the U.S. Government.
The concept of corporate social responsibility and social engagement is a growing one on the island of Ireland. Because the region had for many years struggled to achieve even modest economic success, it was widely believed that a company's responsibility to the community amounted to no more than the provision of employment. Attitudes have slowly changed, however, and companies both large and small are beginning to understand their role in the community in much broader terms. The Irish Institute's January 2008 program on corporate citizenship could not, thus, have come at a more propitious time. The 14 participants included chief executives, public affairs officers, and non-profit managers from organizations in both the Republic and Northern Ireland. During their visit, the group took seminars on corporate social engagement, volunteerism, and philanthropy. In addition, participants visited innovative American corporations that have successfully leveraged their resources to promote employee volunteerism, environmentally friendly technologies, charitable giving, human rights and fair labor practices, and civic engagement. The trip was an extremely successful one and it served to expose the group to innovative and collaborative projects in which corporate and community stakeholders worked together to address pressing social questions that are as relevant on the island of Ireland as they are in the United States.
In Boston, participants attended seminars with Boston College faculty members from the Center for Corporate Citizenship, the Leadership for Change initiative, and the Center on Wealth and Philanthropy. They visited and met with representatives from Biogen Idec, the Museum of Fine Arts, Fidelity Investments, and Cone Public Relations. While in San Francisco, the group met with members of the corporate, non-profit, and academic worlds who have been proactive in fostering partnerships between private enterprise and the community. They visited Berrett-Koehler Publishers, the Salesforce.com Foundation, the Presidio Trust, Pacific Gas & Energy (PG&E), Project Homeless Connect, the Craigslist Foundation, and GAP Inc. The group had an extremely engaging seminar with Professor Kellie McElhaney from the Center for Responsible Business at Berkeley's Haas School of Business. The farewell dinner provided one of the highlights of the program as the group was joined by the Irish Consul General Ms. Émer Deane and the British Consul General Mr. Julian Evans.