Headscarves and Holy Days: Should the Law Make Exceptions?
boisi center for religion and american public life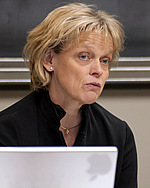 Jytte Klausen is professor of comparative politics at Brandeis University and an affiliate at The Center for European Studies at Harvard University. Her most recent book is The Islamic Challenge: Politics and Religion in Western Europe (Oxford University Press 2005), which was also published in German translation with a Turkish translation forthcoming. Klausen is also the author of War and Welfare: Europe and the United States, 1945 to the Present (1998, 2001) and of numerous articles and chapters on the European welfare state and social cohesion. She co-edited Has Liberalism Failed Women? Assuring Equal Representation in Europe and the United States (2001) with Charles S. Maier, and European Integration in a Social and Historical Perspective, 1850 to the Present (1997) with Louise A. Tilly. Klausen was a British Academy Visiting Professor at Nuffield College, Oxford (2003) and a Bosch Fellow at the American Academy in Berlin (2004). She is currently working on a book about the Danish cartoons of the Prophet Mohammed and the protests against their publication, forthcoming from Yale University Press in fall 2007.