Headscarves and Holy Days: Should the Law Make Exceptions?
boisi center for religion and american public life
Leah Farish is a civil rights attorney in Tulsa, Oklahoma; an Allied Attorney with the Alliance Defense Fund; and an Affiliate Attorney with the Rutherford Institute. She holds a B.A. from Duke University, an M.A. from Vanderbilt University, and a J.D. from Baylor University Law School. For twenty years, she has practiced law and published in the area of First and Fourth Amendment jurisprudence. Her books include Lemon V. Kurtzman: The Religion and Public Funds Case (Landmark Supreme Court Cases) (Enslow, 2000) and The First Amendment: Freedom of Speech, Religion, and the Press (Enslow, 1998). Farish has taught law-related courses at universities around Oklahoma and has represented churches, protesters, schools, parents and students in various court cases. In 2005 she won American University's Mary Beth Tinker Award for her representation of a Muslim girl who wanted to wear a headscarf in her public school. Farish has also represented other Muslims in connection with First Amendment issues. Farish joined the Honor Guard of Alliance Defense Fund attorneys in 2004.
Other Panelists:

Marci Hamilton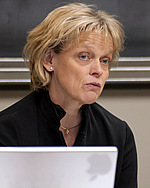 Jytte Klausen