Carmen M. Ortiz, who as United States Attorney for the District of Massachusetts took on such high profiles cases as those of Marathon bomber Dzhokhar Tsarnaev and fugitive Boston mobster James "Whitey" Bulger, is the Jerome Lyle Rappaport Visiting Professor at Boston College Law School for the fall 2017 semester.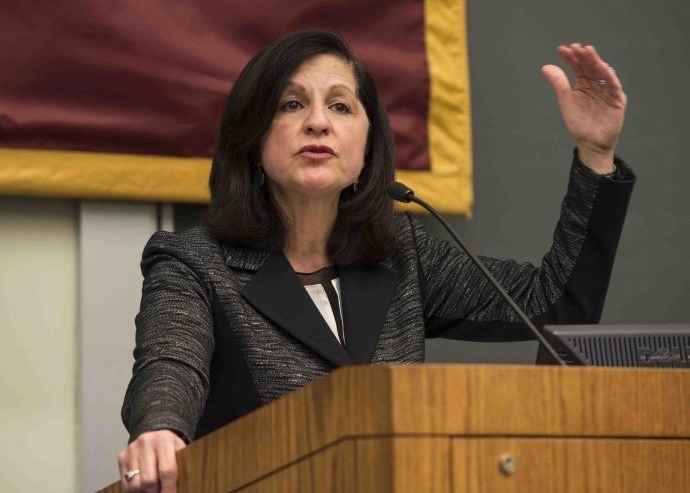 Ortiz will teach a seminar class on national security and participate in several panel discussions as part of the Rappaport Distinguished Public Policy Series, which sponsors forums and conferences to address societal issues with public leaders. She succeeds former Maryland governor and 2016 presidential candidate Martin O'Malley, the first to hold the professorship since the Rappaport Center for Law and Public Policy moved to BC Law in 2015.

"This endowed visiting professorship allows us to bring thoughtful government leaders to the Law School for a semester or more to interact with our students and faculty around current public policy problems, and to teach a course within their unique area of expertise," said BC Law Dean Vincent Rougeau. "The Rappaport Distinguished Visiting Professorship has really enriched our curriculum and our community."
"I am honored and excited that I will be a member of BC Law School's Rappaport Center this fall," said Ortiz in a statement, "where I will have the opportunity to work with law students in an exceptional program that seeks to build future leaders interested in serving the public and addressing the many challenges we face in this nation.
"I am looking forward to sharing my experiences and perspective as we discuss critical national security issues as well as having the opportunity to participate in programs the center designs to better understand our foreign policy, our criminal justice system, and our roles as lawyers at this important time in our country."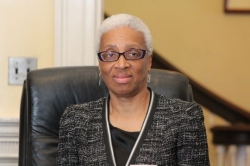 Rappaport Faculty Director Professor R. Michael Cassidy praised Ortiz's experience in state and federal government as "a tremendous asset to our students, both inside and outside the classroom."
"She is an accomplished lawyer and leader in the profession," he added. "I am particularly excited about the opportunities to work with Carmen in developing engaging programming for our community in the areas of criminal law and civil rights."
Among the other complex criminal and civil cases she handled as U.S. attorney were numerous health care fraud investigations that resulted in significant financial settlements, including health care giants GlaxoSmithKline, Merck and Johnson & Johnson. Her office won convictions against Tarek Mehanna for providing material support to al Qaeda and in several corruption cases involving high-profile city and state officials.
Ortiz also has served as an assistant U.S. attorney, an attorney with the U.S. Department of Justice Criminal Division, and an ADA in Middlesex County, and worked in private practice. She spent three years as a program associate and training coordinator at the Harvard Law School Center for Criminal Justice, directing the Harvard/Guatemala Criminal Justice Project, working on reforms and training judges, prosecutors, and defense attorneys in Guatemala.
Ortiz was named Bostonian of the Year by the Boston Globe in 2012 and Latina Lawyer of the Year in 2014 by the Hispanic National Bar Association, among many other accolades. She is a graduate of George Washington University Law School.
–Boston College Law School