Dining Service Production Manager Paul Reilly, left, and Third Cook Derek Schepici at a 'FRESH to Table' demonstration in Corcoran Commons. All photos by Gary Wayne Gilbert.

Fairly traded. Regional. Equitable. Sustainable. Healthy.
These characteristics spell out, literally, the five components of the Boston College Dining Service's new FRESH program, introduced during the fall semester.

Funded by a $399,705 grant awarded to BCDS from the Henry P. Kendall Foundation, the three-year initiative – also known as "FRESH to Table" – aims to increase the production and consumption of local, sustainable food options in New England, with a focus on community awareness and education about the importance of regional, sustainable, healthy food. According to BCDS, the Kendall Foundation has a goal of "50 by 60" – making 50 percent of New England's food sourced regionally by 2060.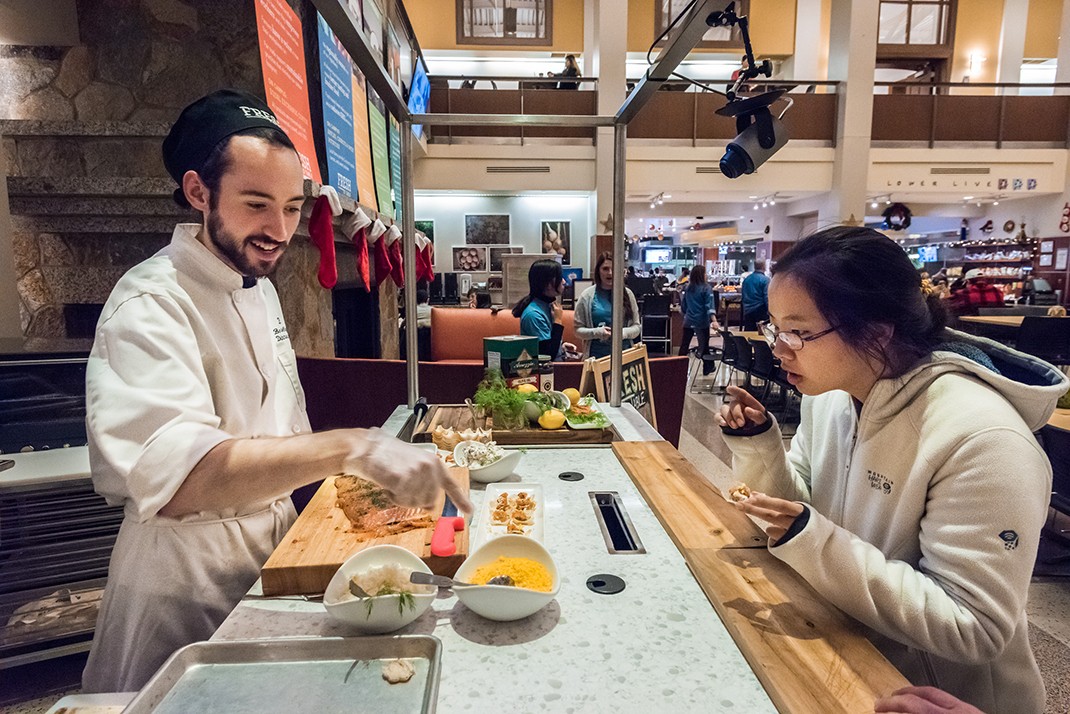 FRESH is the latest innovative venture for BCDS, which is part of the Menus of Change, a 40-member university research collaborative that addresses the critical roles culinary arts, menu design, ingredient sources and restaurant layout can play in influencing life-long food choices among college students. 
"BC Dining is proud to be a recipient of a grant from the Henry P. Kendall Foundation and is excited to see FRESH to Table come to life at Corcoran Commons," said BCDS Director Beth Emery, "providing regional, healthy and delicious food with fabulous feedback from students."
As part of the initiative, BC Dining pledges that each new menu item will meet at least two of the five FRESH requirements.
The program also includes a weekly demonstration kitchen in front of the Corcoran Commons fireplace, featuring a different type of FRESH food each week, such as ratatouille, pickled cucumbers, duxelle pasta, and sweet potato and Brussels sprout hash. Chefs from BC Dining and area vendors provide free samples for students along with a recipe card so they can make the meal in their own kitchens. Bags with ingredients for a four-person dinner are offered for sale.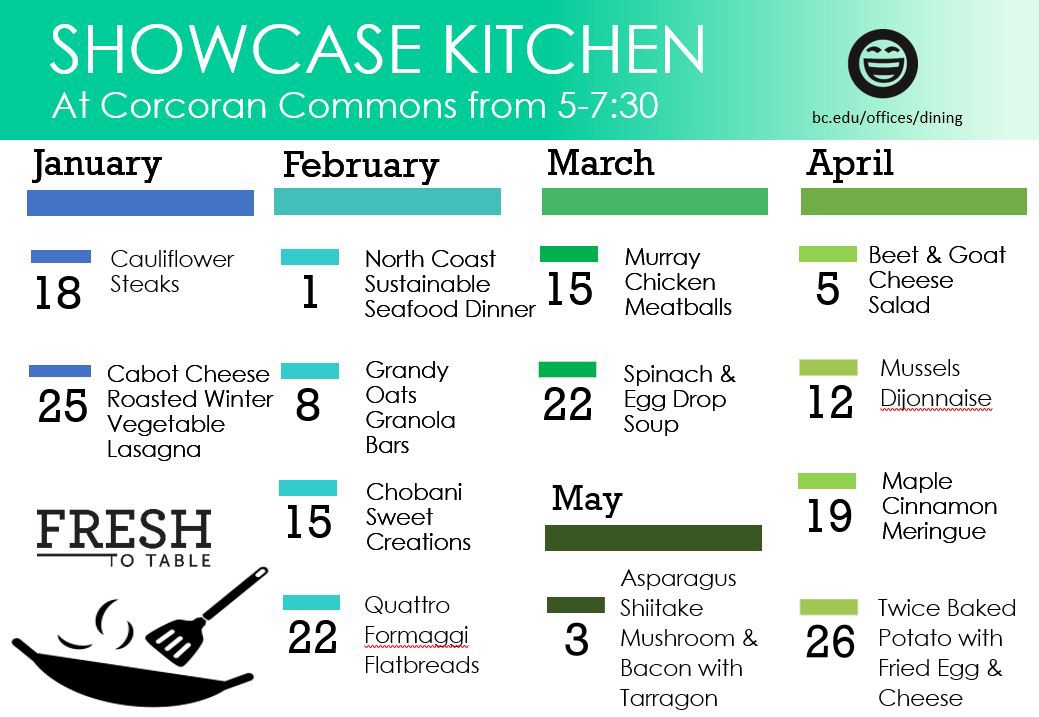 A BCDS report on the FRESH to Table fall debut described a "contagious, festive atmosphere" that encouraged discussion on how initiatives such as FRESH spark awareness of sustainability-related issues, and aid in finding ways to "make BC Dining more environmentally friendly without sacrificing the quality of flavorful food."
Morrissey College of Arts and Sciences sophomore Grace Mitchell thinks the FRESH initiative is a welcome addition to BC's campus and looks forward to the what the future of FRESH will bring.  
"It was really refreshing to learn that BC Dining has a larger focus than just on our campus," said Mitchell. "Small things like good food with a good purpose fit into the larger picture of our Jesuit ideals and I'm excited to see our dining continue to evolve."
Learn more about FRESH to Table and other BCDS sustainability programs here.
–Siobhan Sullivan / University Communications