On stage in Conte Forum: the Boston Pops Esplanade Orchestra, conducted by Keith Lockhart, with the University Chorale of Boston College and special guest performing artist Jennifer Hudson at this year's scholarship gala. (Justin Knight)


One of the Boston College community's favorite traditions marked two milestones this year, as the 25th annual Pops on the Heights Barbara and Jim Cleary Scholarship Gala raised a record-breaking total of more than $14-million for the University's scholarship endowment.
| Read the event highlights in the Boston Globe.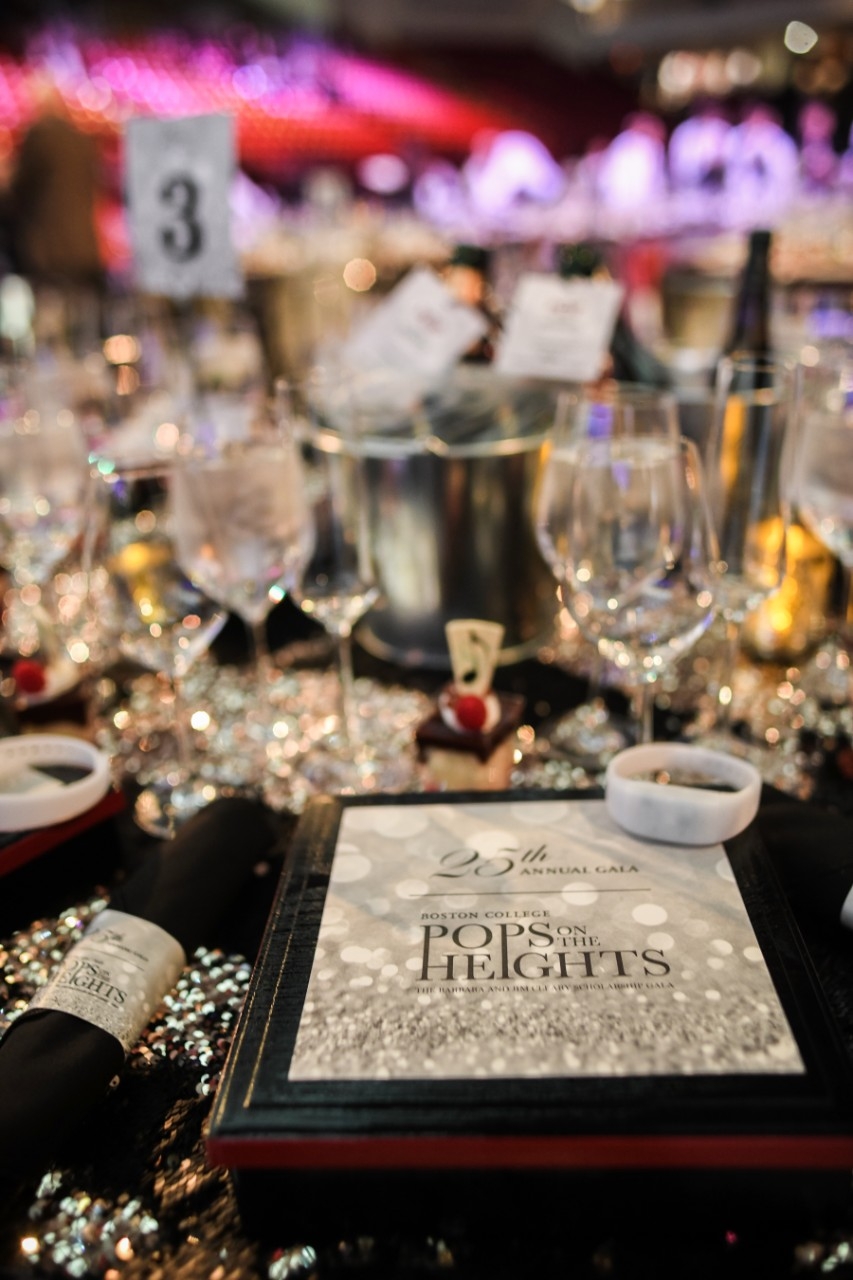 Headlined once again by the acclaimed Boston Pops Esplanade Orchestra under the direction of Keith Lockhart, the sold-out show on September 29 also featured award-winning vocalist Jennifer Hudson as special guest performing artist, and included a special tribute to laureate Pops conductor John Williams, who was presented with the University's President's Medal for Excellence in a ceremony chaired by film, television, and stage actor Chris O'Donnell '92, H'17.
Led by members of the University's Board of Trustees, Pops on the Heights is an evening of great music that also makes a profound difference in the lives of BC students. Since the first Pops gala in 1993, it has expanded in size and scope each year, and is now not only one of BC's signature gatherings, but also one of Boston's biggest philanthropic events, raising more than $50 million for the Pops Scholarships since its inception, and making a Boston College education possible for more than 2,000 students.
"Pops on the Heights is a visible symbol of the University's commitment to need-based financial aid and the many individuals whose philanthropy helps to make that commitment possible," said BC Vice President for Development Beth McDermott. "While the entertainment at Pops is always amazing, it's the impact of the dollars raised that draws our benefactors back year after year," McDermott said. "They've now supported an entire generation of Pops Scholars."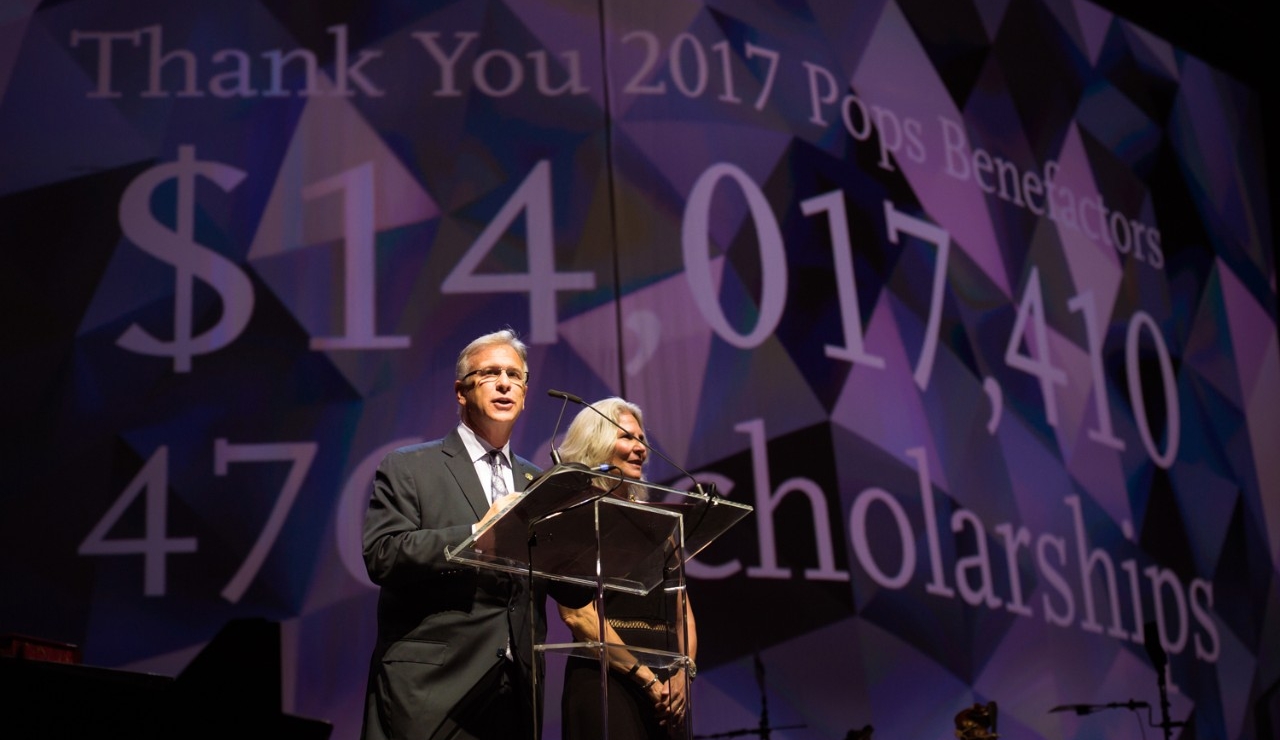 Founded by the late, longtime University Trustee James F. Cleary '50, H'93, the Pops on the Heights mission in support of student financial aid demonstrates the BC community's commitment to being "Eagles for Others," organizers say.

"I'd like to think that we've fulfilled or even exceeded the vision of Jim Cleary, the founder and true visionary behind Pops. He created quite a legacy—not just with the event itself, but with the many hundreds of Pops Scholars who are now out in the world doing extraordinary things," said McDermott.
"BC helped me find a direction for my life. Without the Pops scholarship, coming to BC would always have been a 'what if.'"—Johann Friedl '16.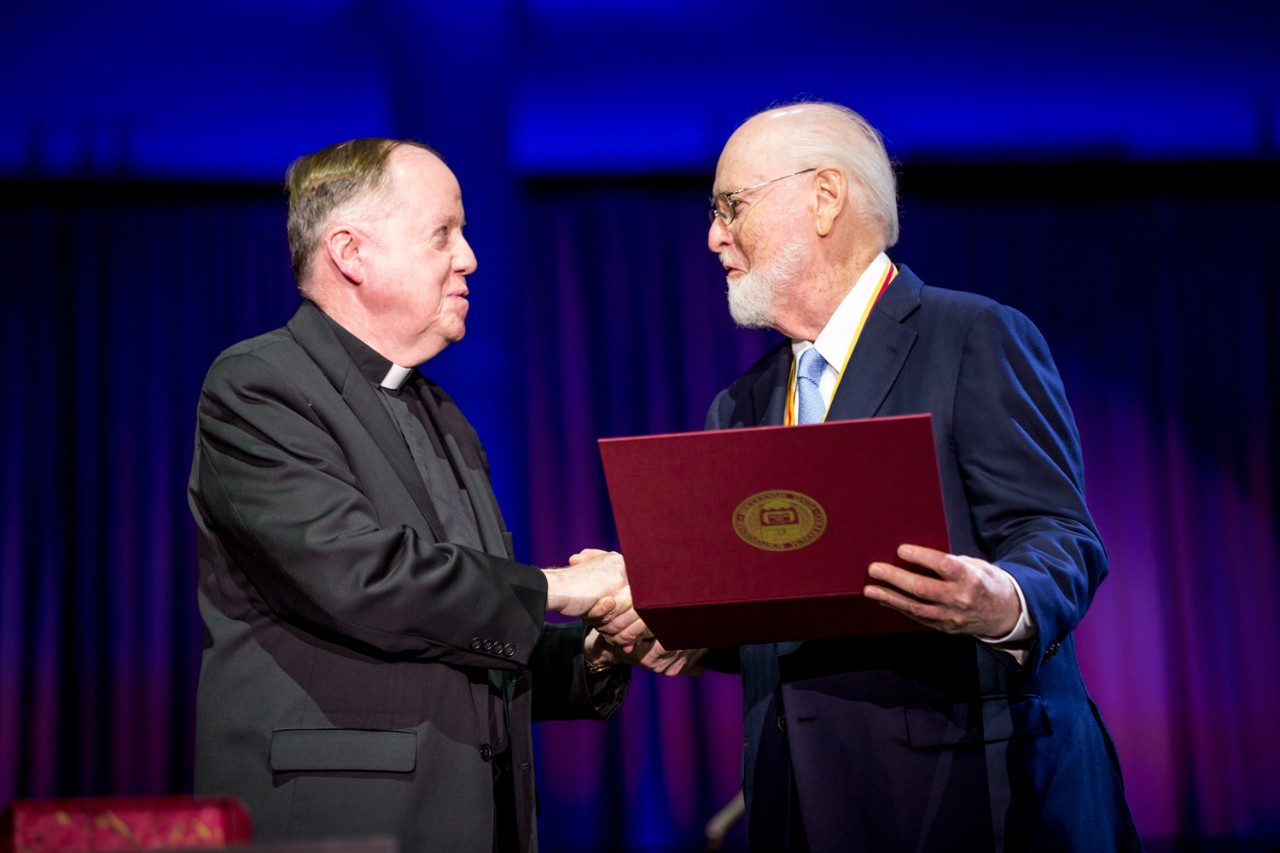 Pops on the Heights is "a manifestation of my father's irresistible passion for helping Boston College do good in the world," said Kara Cleary '84, MA'91, and "the ultimate expression of community at Boston College. Parents, freshmen, returning students, alumni, trustees, Jesuits, all coming together in Conte Forum for a joyous celebration of hope, generosity, and a vision for the future. And it gives us a chance, yet again, to be blown away by the quality of the young people we can welcome to the BC family as a result of our giving."
In recent years, Pops on the Heights has been led by University Trustee John Fish, chairman and CEO of Suffolk Construction Company, who took the initiative to another level in expanding both its fundraising goals and the number of scholars it supports. He and his wife, Cyndy—along with BC Trustee Charles I. Clough Jr., chairman and CEO of Clough Capital Partners, and his wife, Gloria, both Boston College alumni—currently serve as event chairs emeriti.
The 25th annual gala was chaired by alumnus David P. O'Connor, senior managing partner at High Rise Capital Partners, and his wife, Maureen, and alumnus Phil Schiller, senior vice president of worldwide marketing at Apple Computer, Inc., and his wife, Kim D. Gassett-Schiller.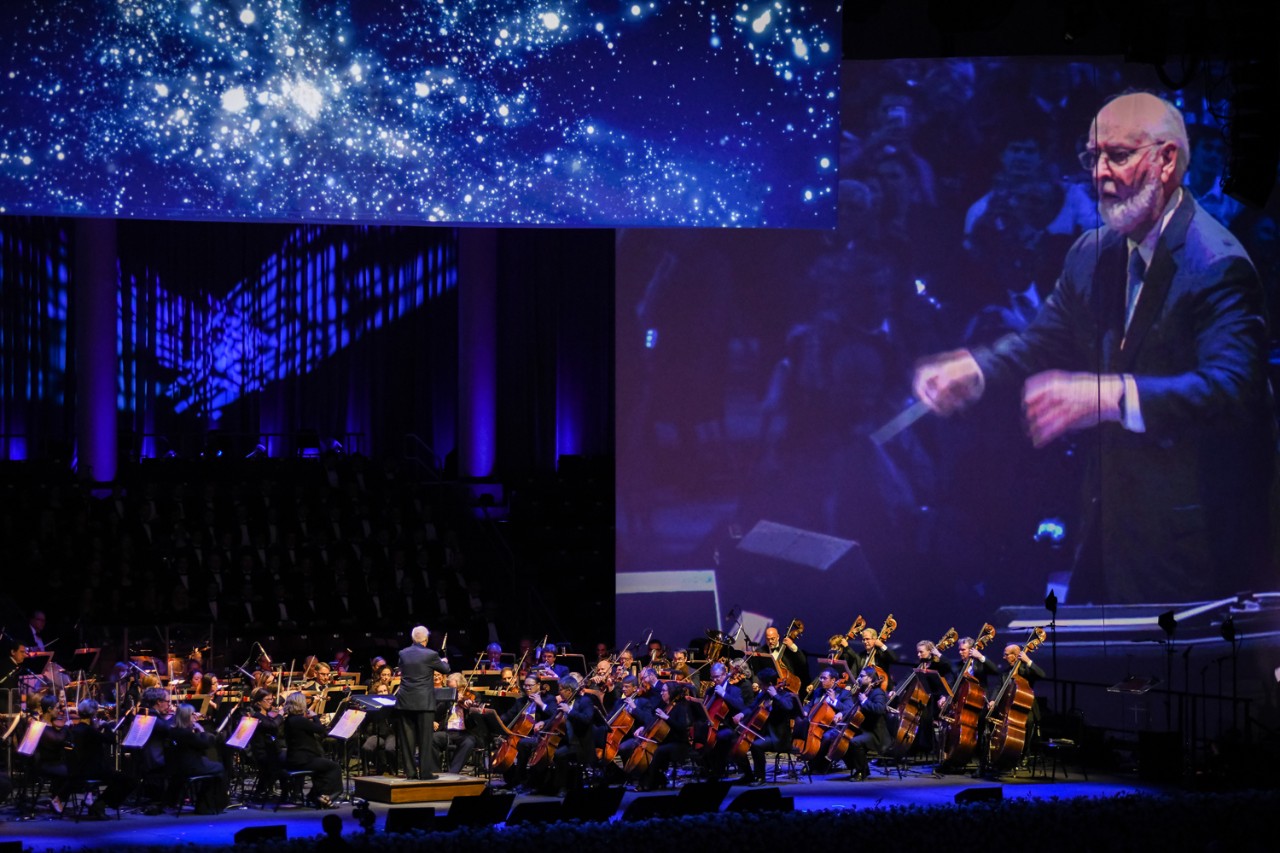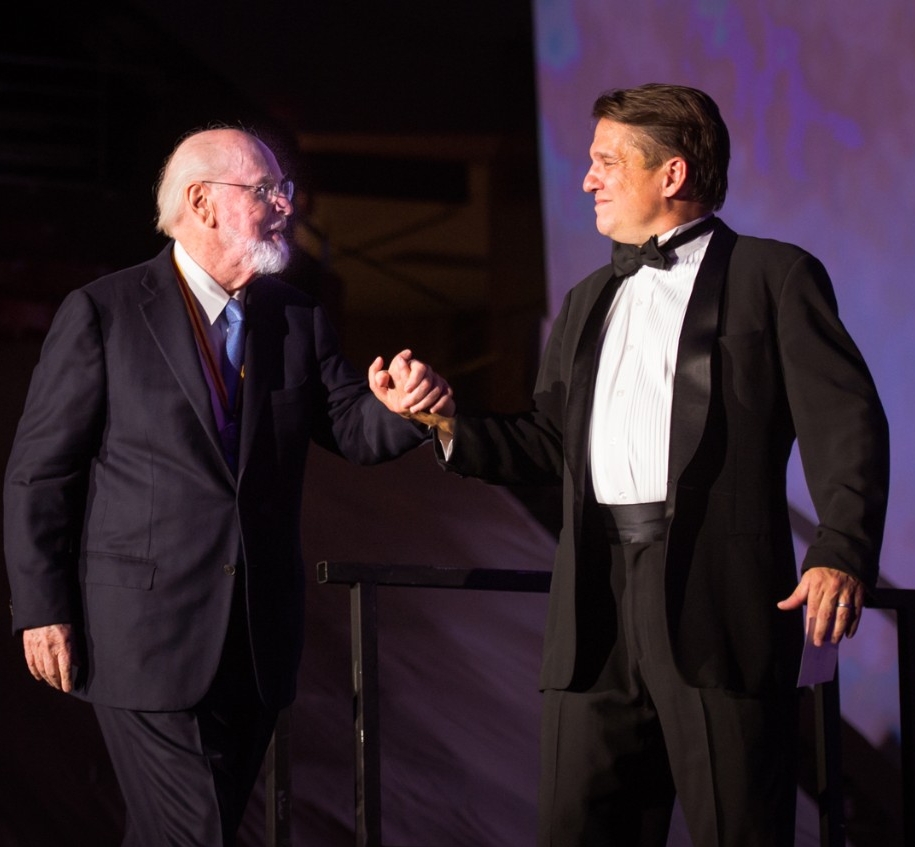 According to Boston Pops Conductor Keith Lockhart, the event's musical program paid tribute to the orchestra's "quarter century of performances on one of the most beautiful college campuses in the world." Selections performed by "America's Orchestra" were drawn from the past 24 concerts on the Heights, and included an homage to the evening's honoree, John Williams, that showcased his compositions for the films Superman, Empire of the Sun, E.T. the Extra-Terrestrial, and Star Wars.

At the event, the President's Medal for Excellence was presented to Williams, who has been a friend of Boston College—including several guest appearances as conductor at Pops on the Heights—and a supporter of education and students for many years.
During his five-decade career, Williams has become one of America's most successful composers for film and for the concert stage. He has received the National Medal of Arts, the Kennedy Center Honor, and the Olympic Order, as well as five Academy Awards, seven British Academy Awards (BAFTA), 23 Grammys, four Golden Globes, five Emmys, and numerous gold and platinum records.
The soaring vocal talent of guest soloist Jennifer Hudson wowed the capacity crowd at Conte Forum with songs ranging "Spotlight," from her debut album, to her cover of Leonard Cohen's "Hallelujah," to "And I Am Telling You I'm Not Going," from Dreamgirls. A highlight of her charismatic performance came when she left the stage to interact with fans in the audience.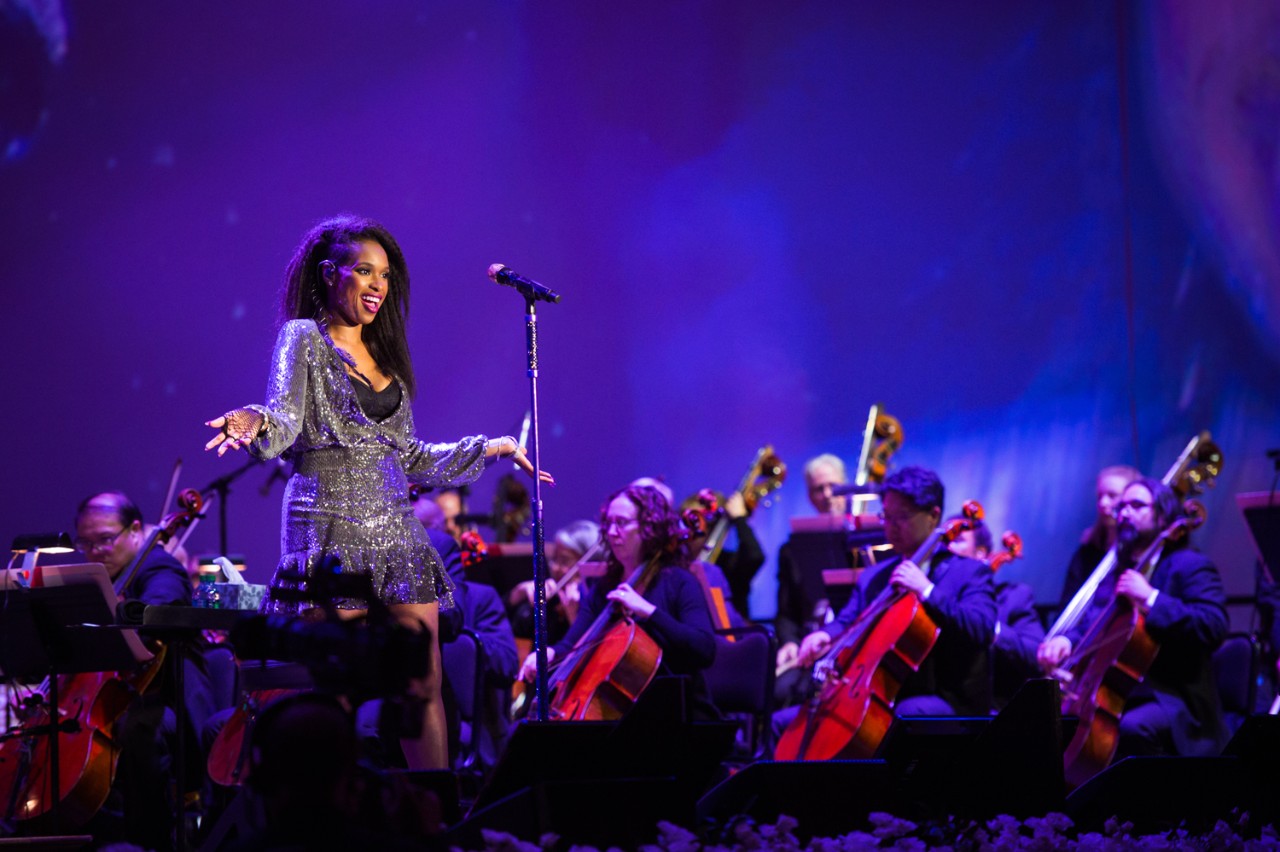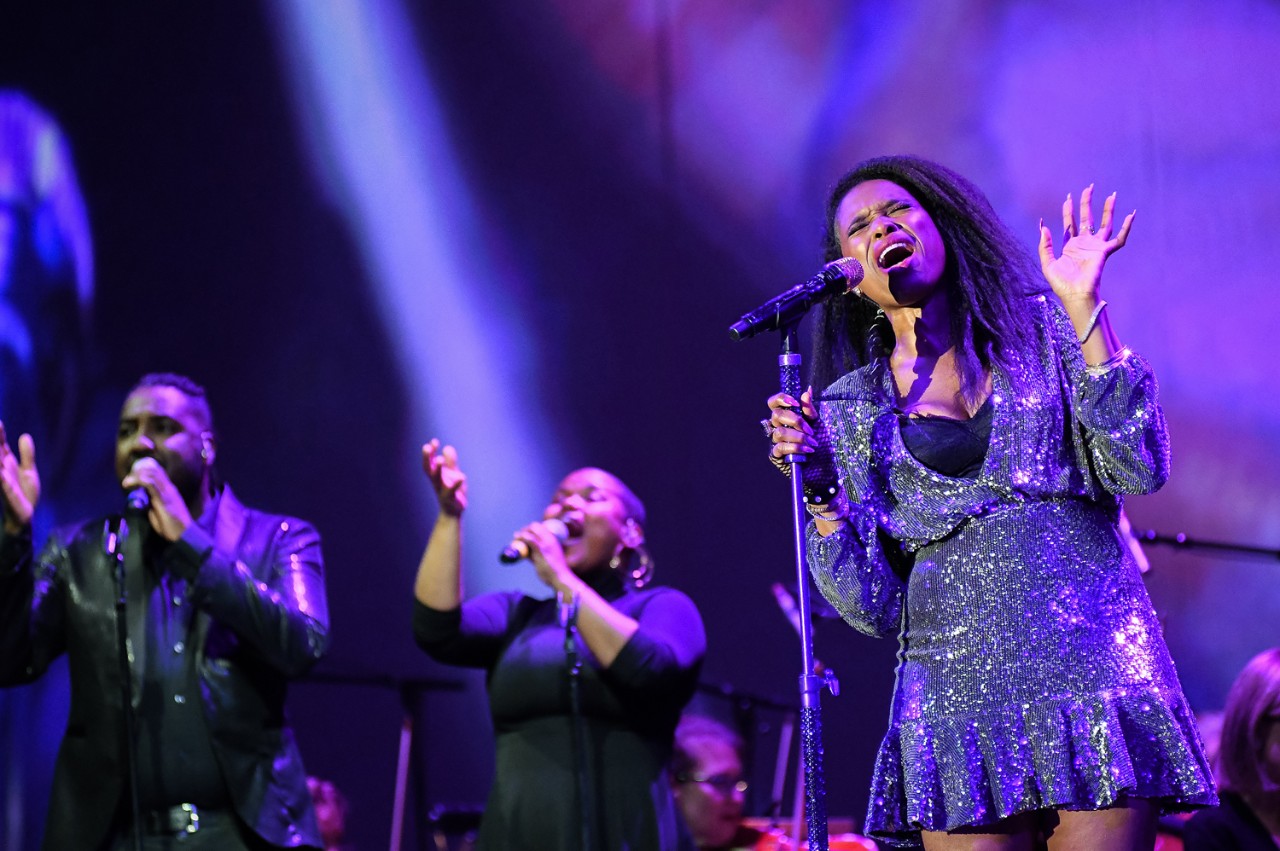 A two-time Grammy Award-winning recording artist, Academy Award-winning actress, and best-selling author, Hudson is making her debut as a coach this fall on the 13th season of NBC's Emmy Award-winning competition series "The Voice." She has released three critically acclaimed albums since 2008, including her most recent production, JHUD.

Her breakout film performance came in 2007 as Effie in the smash hit Dreamgirls, which garnered her Golden Globe, Screen Actors Guild, BAFTA, and NAACP Image awards. She made her Broadway debut in 2015 inThe Color Purple.  In 2009, Hudson, along with her sister Julia, founded the Julian D. King Gift Foundation as a catalyst for change in children's health, education, and welfare.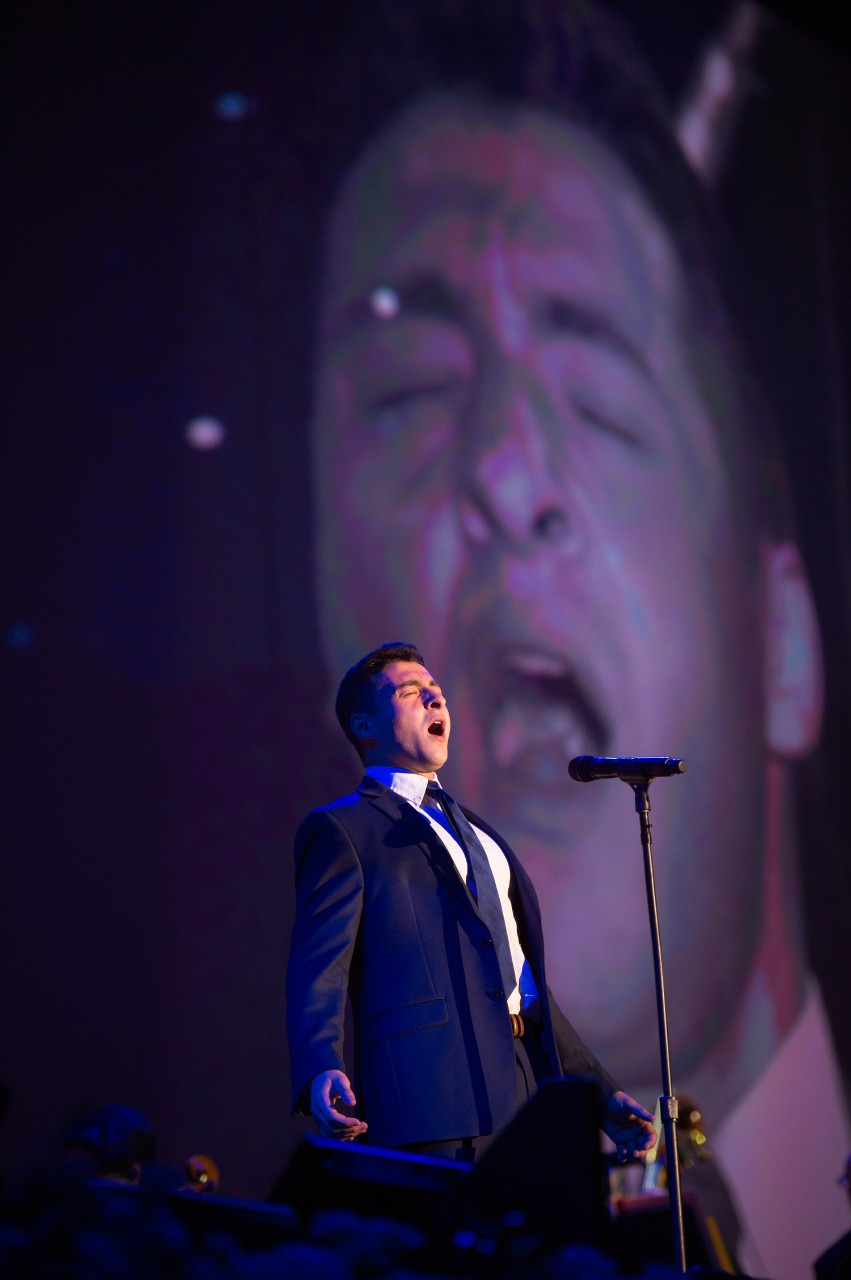 Student soloist Christopher Cheeseman's stirring rendition of "The Impossible Dream," from the musical Man of La Mancha drew one of the several standing ovations prompted by the evening's program. A sophomore from Montvale, New Jersey, Cheeseman studies finance and entrepreneurship in the Carroll School of Management, minors in music, and is a member of the Bostonians of Boston College, the University's oldest a cappella group.
And, as always, the evening featured the talents of BC's "Screaming Eagles" Marching Band and the University Chorale of Boston College.
"It is unparalleled to have the opportunity to perform with the Boston Pops Orchestra," said John Finney, who joined Boston College as director of the University Chorale just in time for very first gala in 1993, and has not missed a year since. "Singers rarely have a chance to sing with an orchestra of the caliber of the Boston Pops. We are extremely fortunate for our Boston College Chorale members to have this opportunity."
Students who have been selected for solo performance at Pops in recent years echo Finney's enthusiasm.
"To be singing a timelessly beautiful song with the Pops, in a room full of people who make BC the amazing place that it is, was truly the most humbling and yet empowering experience of my life," said Liz McGovern '18, who sang at the event in 2015.

Christy Coco '17, last year's student soloist, concurs. "Singing with the Pops was a magical experience and a highlight of my four years at BC. I am so grateful to have been given the opportunity and for the support of the Pops and the BC family. It is a memory that I will cherish forever."
Most important however, is the impact that Pops on the Heights has had on student scholarship recipients.
"BC helped me find a direction for my life," said Johann Friedl '16. "Without the Pops scholarship, coming to BC would always have been a 'what if.'"
Added Pops Scholar Amisha Desai '17: "I hope one day I too can offer students like me the assistance they need to make their own wonderful experiences at Boston College."

—University Communications


It's not over until the balloons drop! More scenes from a stellar 25th Annual Pops on the Heights Gala: