Welcome to China Chapter
alumni expand international impact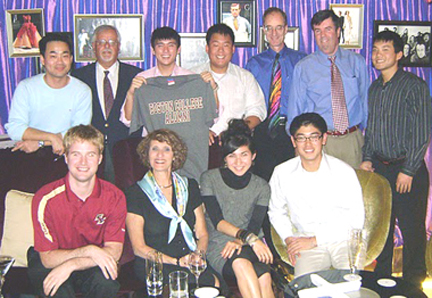 Front, from left: Kevin Meenan '06, MA'08; Rena Mirkin, MA'80; Deborah Ehrlich '07; and Eric Nam '11. Rear, from left: Charlie Wang '97, MS'04; Howard Mirkin; John Howie '11; Anthony Hwang '11; Michael Chapman; Scott Goodwin, MS'97; and Allen Liu '11.

Encouraged by support from the Alumni Association and through cooperation with other emerging international chapters in places as far-flung as Paris and Seoul, Boston College's first China Chapter was launched by Deborah Ehrlich '07 and Kevin Meenan '06, MA'08, in Beijing last fall.

Since its inception, the China Chapter has managed to connect with alumni in Beijing, Shanghai, Hong Kong, Nanjing, Xiamen, Dalian, and other locations. Although its first events were held in Beijing, the chapter plans to coordinate events in Shanghai this spring. Industries represented by alumni attending China Chapter events thus far include finance, education, technology, accounting, and consulting, among others.

The China Chapter is continuing to work with Boston College to provide whatever it can for Eagles in China, and it seeks to increase knowledge and recognition of BC throughout China. Alumni can contact the China Chapter at chinabceagles@gmail.com.

Happy New Year, 新年快乐, and go Eagles!