Alumni Connections
a monthly e-newsletter
Heartwarm Hill
(in alphabetical order)

Chris Bade '80 ran the Boston Marathon this year in under 3 hours and 30 minutes and raised over $11K for Children's Hospital in Boston.

Jim Cassidy '77
That's me in the foreground, running the Boston Marathon, my first-ever marathon. This was in Hopkinton. I didn't look quite as fresh four hours and thirty minutes later in Copley Square. The BC students gave everyone a big morale boost at the top of Heartbreak Hill.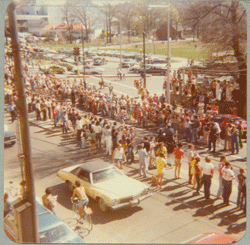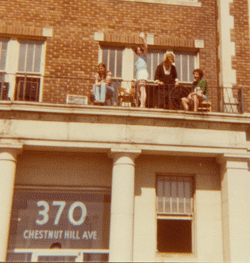 Cathy Farrell '77
I'm so glad you requested photos of the Boston Marathon experience at BC in the May issue of Alumni Connections!

My roommates and I had a great time watching the 1977 Boston Marathon from the balcony of our BC-issued dorm apartment at 370 Chestnut Hill Ave in Cleveland Circle. To the left are two scanned snapshots; they are a bit fuzzy, but give a flavor of the experience. The top picture shows the front runner and eventual winner Jerome Drayton.

The second shows the Cleveland Circle gang watching the race from our apartment windows and balconies. You can't see it in the photo, but we set up two speakers on a balcony below us. We cranked up the theme music from the movie Rocky, which had just won the Academy Award for Best Picture that spring. What fun!
Laurey Lou '07 and Ryan Meehan '07 run past St. Ignatius Church.
Kevin Pfau '81
I have run the Boston Marathon for each of the last five years, but only twice officially. I can tell you that reaching the Heights is an indescribable experience for a BC alum.
Running a marathon is a journey, and the thoughts and memories that go through my mind over the 26 miles are mind boggling. In 2004 during my first Boston, as I ran up Heartbreak Hill I remembered all the times I had run up that hill while a student at BC. I recollected my classmates and all the great memories I had of BC. I thought of my freshman roommate Mark Cartier, who I was so proud of when he ran it in 1978, and another roommate Mike Surrette, who sadly passed away too young. Words can't desribe my emotions when I reached the student body; the screaming and cheering BC students were so inspiring.
In 2006, while I relived some of those same feelings, I was further motivated to reach BC because I knew I would see my daughter Kristen '09. After giving her a hug at the top of Heartbreak Hill, I ran down high-fiving everyone and yelling, "Hillsides 1981!" When I told my daughter this after the race, she said, "Dad, they probably all thought you were nuts - nobody calls them Hillsides anymore!"
My Boston Marathon experience in 2007 was special in yet another way. It was my first Boston since my dad William '51 passed away. In my heart, I knew he was up there helping to get me to the finish. Running up Heartbreak with this in mind was so emotional, and then reaching the student body was incredible as always.
While the girls of Wellesley may get more press for the noise they generate on race day, the students of BC are just as loud and supportive. And, given their location in the marathon, BC students are so much more important and inspirational for those trying to make it to the finish.
I know I'm biased, but there is nothing like the Boston Marathon and there is nothing like reaching BC!!!