Alumni Connections
a monthly e-newsletter
BC Marching Band Hits Right Note for Alumnus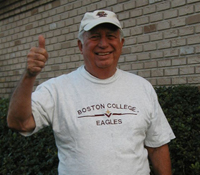 Tom Aglio '53, MSW'55
Last month, Alumni Connections asked alumni to submit their favorite memories from BC's terrific 2007 football season. The following is a story written by Tom Aglio'53, MSW'55, about a special parade in Winter Park, Florida, a town near Orlando, involving the BC and Michigan State marching bands on the day prior to the Champs Sports Bowl. In 2000, Tom won the Alumni Award of Excellence for Public Service for his work with Catholic Charities in Orlando.
By Tom Aglio '53, MSW'55
Today was one of those days that you save in memory for a very long time—a day of great joy and pride, a day of reminiscing, and a day of nostalgia. It was a day of thoughts of the heart, rather than musings of the head.

The Boston College Marching Band is in town accompanying the football team to the game tomorrow at the Champs Sports Bowl against Michigan State. A local man, who recently had seen a band event at Purdue University, arranged for BC's and Michigan State's large marching bands to parade and then provide a brief concert for the gathered well-wishers on Park Avenue in Winter Park.

Park Avenue was full of spectators to witness this first-ever event. No other groups, no floats, no fire engines, no clowns were present—just the two bands along with their spectacular cheerleaders and mascots. The weather was perfect: December sunshine, blue sky, a tender breeze, and temperatures pushing up almost to 80 degrees.

Michigan State, with 300 band members strong, marched first. Dressed in crisp green and white uniforms, they marched with great precision, their instruments gleaming in the sunlight and their voices shouting the charge of the Spartans. It was quite a sight to behold—obviously rehearsed and meticulously performed with much fanfare, much to the joy of so many tourists from Michigan on the sidelines of the avenue.

After a brief break in the lineup, the sound of drums grew in the distance as the Eagles approached Park Avenue. The anticipation was intense. My own Eagles were in my hometown to entertain me and my neighbors! Then the sound of bugles overtook the drums, and the clear voices of the band members loudly proclaimed: "For Boston, for Boston, we sing our proud refrain!" The air was full of excitement and energy. "For here all are one, and their hearts are true, and the towers on the Heights reach to Heav'ns own blue." My emotions were rising, rushing forth to greet this spectacle. The parade seemed to ebb into slow motion as it began to pass in front of me. I studied the faces of the participants—180 men and women in maroon and gold focused on the business at hand, driven by pride and glory along the parade route. "...Till the echoes ring again!"

And suddenly, not five feet from me, a single man dressed in black appeared, accompanying the left flank of the drummers. He wore a Roman collar and a wide grin. I was overcome with joy to see this Jesuit escort. Hail, alma mater! Tears rushed down my cheeks. I waved, I cheered, I clapped. I shall never forget that moment as long as I live. And then, as if on signal, the pace of the marchers picked up, and they were gone.

About 10 minutes later, both bands assembled in the park and we were treated to a small concert. First, one band played, and then the other—up close and personal, with hundreds and hundreds of admirers crowded around them. I searched out the Jesuit priest and found him near the outer perimeter of the audience. I told him that I was a Triple Eagle and welcomed him to Winter Park. He said his name was Fr. Don MacMillan, a Jesuit priest in Campus Ministry at BC. He is from Jamaica Plain and is, like me, a Triple Eagle. He also was stationed at BC High, my alma mater, at one point in his priestly career.

We reminisced, shared stories, complimented each other, and relished the good fortune of meeting one another. I thanked him for his presence with the band and told him what it meant to me to spot him on the street like a guardian angel to all those young people so far from home. It was reassuring to me, and I am sure to all those students, to have him give the school a special identity. It was like a moment of evangelization. Long live the tradition: "And they will make them men and women for others..."

It took me a very long time to come down from that high. So much of who I am is connected to my experience at BC so long ago. Hundreds of images and recollections rushed my senses. I told total strangers in the vicinity that I was a proud graduate of BC. I spoke to everyone who had on a BC t-shirt. I thanked the cheerleaders for visiting here. It truly was like old home week. The outcome of the game tomorrow is almost irrelevant. I have already scored today.